The Group Guide to Las Vegas Airports
If you're headed to Las Vegas for a bachelorette party, a big group vacation, or a business convention, you'll likely find yourself traveling through McCarran International Airport. If you're taking a private flight or an air tour of the desert, you'll probably find yourselves at one of Las Vegas's other airports. Knowing what services each Vegas-area airport offers can be a little confusing, but don't worry—you can find helpful information here! Keep reading to learn more about Las Vegas's airports and how to get there.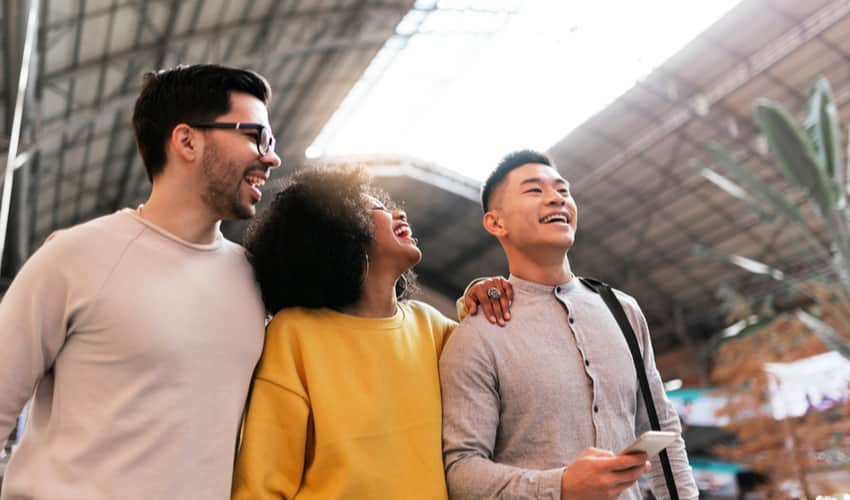 How to Travel to and From the Airport
Traveling with a group through one of the country's busiest airports can be extremely stressful, so you'll want to have your flight information organized and have your ground transportation in order too. Las Vegas Charter Bus Company serves travel groups throughout the city and state of Nevada with private airport shuttle services. Las Vegas Charter Bus Company works with a wide network of transportation providers with a diverse selection of charter bus rentals.
Booking private charter bus rental is an economical and convenient way for groups to travel to and from the airport. Having a private shuttle service will help your group save on multiple rental cars and rideshares, while also being an easy way to transport plenty of luggage. Forget about struggling to stuff suitcases in your rideshare or running to catch a pre-scheduled shuttle service. Travel to and from the airport on your own time with plenty of space for your entire group and all your luggage. You can get a personalized price quote for your airport shuttle service in Las Vegas by calling 702-780-0886 at any time.
McCarran International Airport/Harry Reid International Airport (LAS)
Address: 5757 Wayne Newton Blvd, Las Vegas, NV 89119
Phone:  (702) 261-5211
Although the airport was renamed Harry Reid International Airport in December 2021, many travelers will know Las Vegas's main airport as McCarran International. This airport houses more than 25 passenger airlines with over 150 destinations, including access to around a dozen countries.
McCarran International sees a heavy amount of air traffic (more than 22 million passengers a year to be more specific), which means you'll want to have your arrival and departure as streamlined as possible. Your personal charter bus driver will be in communication with your group before pickup to ensure you have a smooth post- or pre-flight ride. Domestic groups can be dropped off or picked up via charter bus shuttle at Terminal 1, while international groups will find transportation at Terminal 3.
Have some time to spare before your flight? LAS may be the only major airport in the country with casino slot machines. Play the slots or grab a bite to eat at one of the airport's many fast-casual restaurants. Grab food and a brew at PGA Tour Grill in Concourse B, chow down on American diner classics at Ruby's Dinette in Concourse D, or grab a day pass to enjoy tasty food and unlimited drinks at The Club LAS in Concourse D.

North Las Vegas Airport (VGT)
Address: 2730 Airport Dr, North Las Vegas, NV 89032
Phone:  (702) 261-3801
Unlike LAS, North Las Vegas Airport is primarily used for general aviation and does not house passenger airlines. VGT is a location popular for flight lessons, air tours, and private flights into and out of Las Vegas. Although this airport doesn't have passenger airlines, travelers can still take advantage of rental car services, quick dining at Sunshine & Tailwinds Cafe, and explore a small collection of exhibits about airplanes and flight history.
If you're traveling with a group though, you'll want to have a comfortable transportation service for everyone. Las Vegas Charter Bus Company can get your air tour group or private flight group into and out of VGT with ease. Rent a private full-size charter bus rental so your group or private fliers has plenty of luggage storage space, or rent a minibus to efficiently transport your air tour group to VGT.
Henderson Executive Airport (HSH)
Address: 3500 Executive Terminal Dr, Henderson, NV 89052
Phone: (702) 261-4800
Similar to VGT, Henderson Executive Airport does not usually offer passenger airline services but is oftentimes used as a reliever airport for LAS when air traffic is exceptionally heavy. During normal business operations, HSH is open for services like flight lessons and private air charters. This airport is a prime location for executive business travelers flying in by private aircraft. The airport has meeting rooms, high-speed WiFi, a modern pilots' lounge, catering services, and casual bites open to the public at The Landings Restaurant.
HSH tends to be a relatively quiet airport, so it'll be easy for your charter bus driver to pick up and drop off your group. Just let your Las Vegas Charter Bus Company rental expert know when you'll need transportation and we'll make sure a professional driver is available at HSH.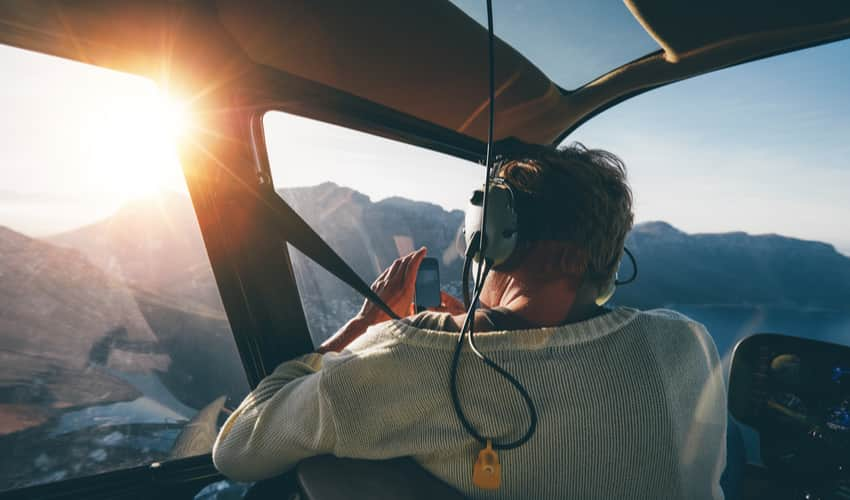 Boulder City Municipal Airport (BLD)
Address: Airport Rd, Boulder City, NV 89005
Phone: (702) 293-9405
Groups looking to make an air tour over part of the Grand Canyon will likely be traveling from Boulder City Municipal Airport. In addition to helicopter tours, BLD also houses businesses that offer skydiving, private air charters, and flight lessons. The airport is located about half an hour from the center of Vegas. Your travel group can comfortably shuttle the 30-something miles in plush reclining seats with WiFi and cozy climate controls.
Rent a Private Las Vegas Airport Shuttle Today
Flying can be stressful, but with a personal charter bus rental from Las Vegas Charter Bus Company, ground transportation doesn't have to add to the stress! Give the Las Vegas Charter Bus Company team a call at 702-780-0886 to reserve a ride for your next group flight into or out of Sin City.
Do you need to rent a charter bus?