Our Favorite Group-Friendly Restaurants in Las Vegas
We all know that visiting Sin City's best casinos (and exploring the city's lesser-known non-casino attractions) is better with a group—so when it comes time to break for breakfast, lunch, dinner, or drinks in Las Vegas, we're here to help you make sure your meal plans can accommodate all of your group's members plus all of the energy you're bringing onto your trip! Below, we've collected some of our favorite restaurants in Las Vegas that are sure to have plenty of space for your group. And when you're ready to book group transportation for your Vegas trip, Las Vegas Charter Bus Company will be here to make sure everyone has a safe and reliable ride all day and all night.
Getting Around Las Vegas
Moving through a busy city with a group can be a hassle, from picking designated drivers to splitting up into multiple rideshares to making sure everyone ends up at the right spot. Why not get everyone onto one bus for your bachelor/ette party, night out, or week-long stay? Las Vegas Charter Bus Company can cover you no matter how big or small your group, with compact minibuses (great for shuttling around The Strip and nearby) and full-size motorcoaches (great for long-distance trips with large groups)! Your professional bus driver will be with you every step of the way to make sure you arrive safely at each casino, museum, and restaurant on your itinerary. Plus, you can beat the heat with onboard air conditioning and stay entertained with onboard WiFi and power outlets to keep phones charged!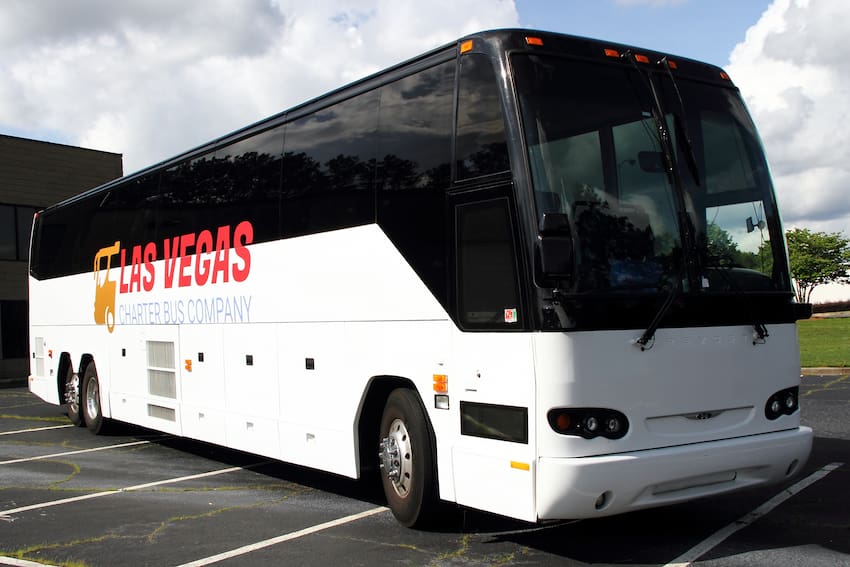 To learn more about what types of buses you can book in Las Vegas, call our 24-hour team at 702-780-0886. We'll make sure you're paired with a bus rental that's tailored to your group's needs, no matter how many people you're traveling with or how long you'll be in Vegas!
Until then, here are some group-friendly restaurants we recommend! Keep in mind that the amount of space indicated may only refer to private dining areas and that many of these restaurants can be completely bought out to accommodate many more guests.
Joel Robuchon
Space for: up to 20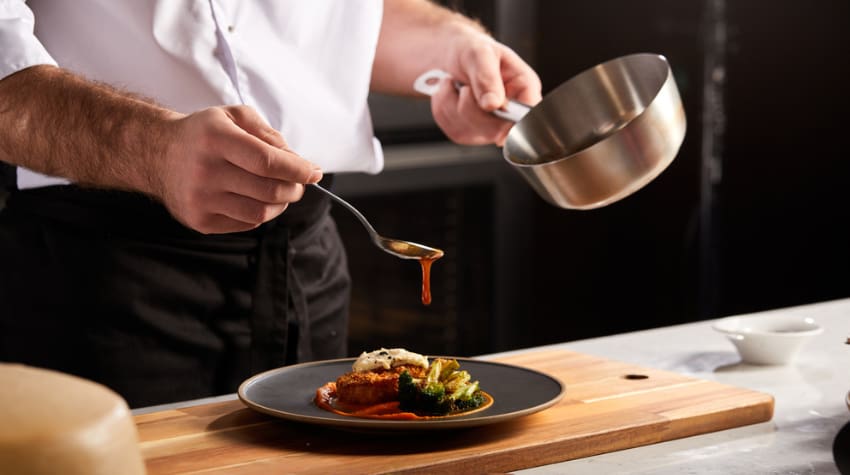 This French restaurant is definitely a splurge, but if you're in the mood to go all-out with a 16-course tasting menu in a private dining room at Vegas's only restaurant with 3 Michelin Stars, make Joel Robuchon #1 on your list! You can reserve the private dining area for up to 20 guests, making it a great choice for an intimate gathering with coworkers, clients, your wedding party, or anybody else you're trying to impress.
Charter Bus Tip: If you really want to impress your group on the ride over to the restaurant, request some additional bus features like leather seats or all-black exteriors for a luxurious private ride.
Address: 3799 S Las Vegas Blvd, Las Vegas, NV 89109 (in MGM Grand)
¡VIVA!
Space for: up to 16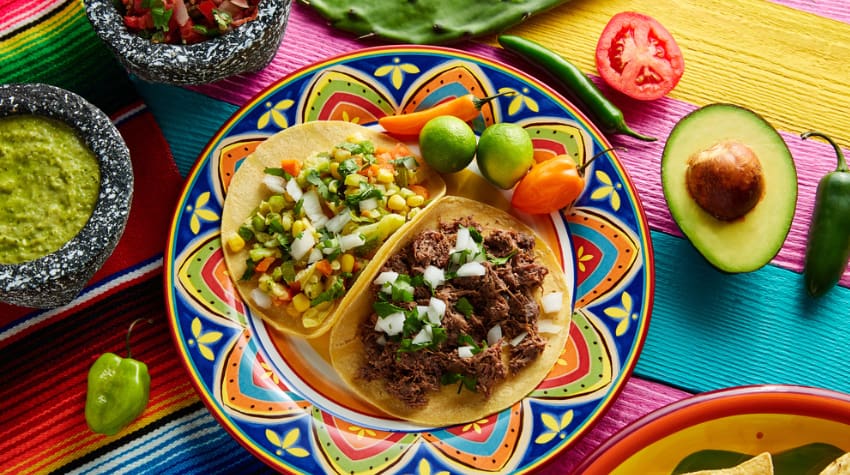 ¡VIVA! features Mexican-inspired dishes served up in a colorful and chic environment inside The District at Resorts World. Up to 16 guests can enjoy a beautifully-decorated private dining area while you sip on margaritas and hibiscus coolers and munch on Mexican grilled meats that have been cooked to absolute perfection (don't worry–vegetarian options are available too!).
Charter Bus Tip: After an evening of margs and delicious food, you won't have to worry about who's going to be your designated driver with a private charter bus rental. Leave the driving to a professional so your group can celebrate to your hearts' content knowing that everyone has a safe ride back home!
Address: 3799 S Las Vegas Blvd, Las Vegas, NV 89109 (in The District at Resorts World)
Distill
Space for: up to 100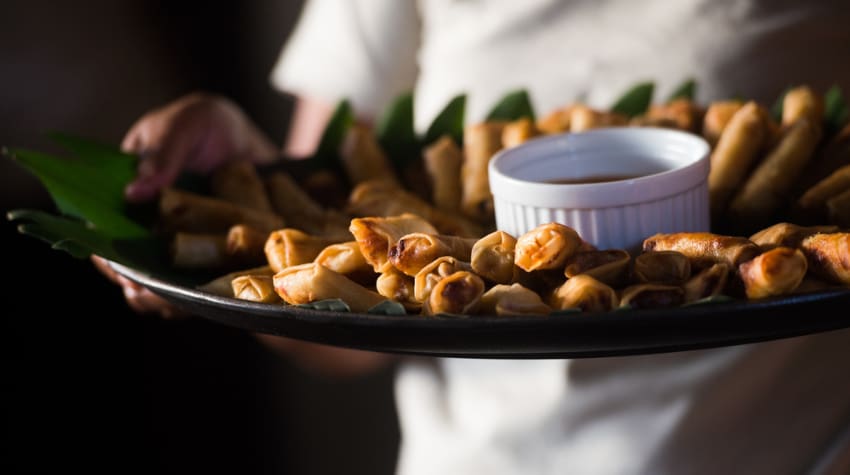 There are a few Distill locations throughout the valley, but the one with the most space sits on Rainbow Boulevard and has enough private group space to accommodate up to 100 people. Guests can enjoy a bright, open space or get some fresh air on the open patio, and the added privacy makes this a great spot for private events. While you mix and mingle, guests can munch on custom hors d'oeuvres or freshly-carved meats and sip on craft cocktails while enjoying live DJ music and a dance floor.
Charter Bus Tip: Instead of having guests drive themselves to your special event, reserve a private shuttle bus to pick everyone up at nearby hotels and drop them off at the correct Distill location. Plus, everyone can enjoy the party without having to worry about who's going to be the designated driver on the way back.
Address: 6945 S Rainbow Blvd, Las Vegas, NV 89118 (in The Arroyo Market Square)
Mon Ami Gabi
Space for: up to 250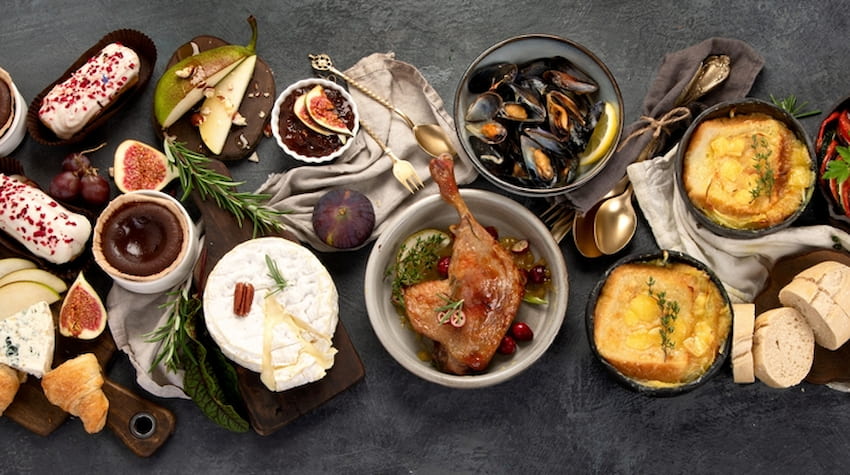 Authentic French food with a classy Parisian ambiance to match? We're all in! Mon Ami Gabi sits right off Las Vegas Boulevard in the Paris Las Vegas resort, directly across from the famous Bellagio fountain. Serving breakfast, lunch, dinner, and weekend brunches, the menu highlights classic French dishes and a very impressive wine list. Kids' menu and gluten-free options are also available–just ask your waiter!
If you need to feed a large number of guests for an event, Mon Ami Gabi's entire dining room is available for rent, seating up to 650 guests. The private dining room seats 30, and another two rooms in the restaurant can seat 32 or 80 people.
Charter Bus Tip: If you're hosting a weekend wedding or other multi-day bash near Mon Ami Gabi, Las Vegas Charter Bus Company can make sure every single guest is shuttled around town in reliable, comfortable, and air-conditioned buses. After lunch, we can shuttle guests to an afternoon game at Wynn Golf Club, up and down The Strip to check out other casinos, or out to a local brewery or tour of Las Vegas's history.
Address: 3655 S Las Vegas Blvd South, Las Vegas, NV 89109 (in Paris Las Vegas)
Carmine's
Space for: up to 700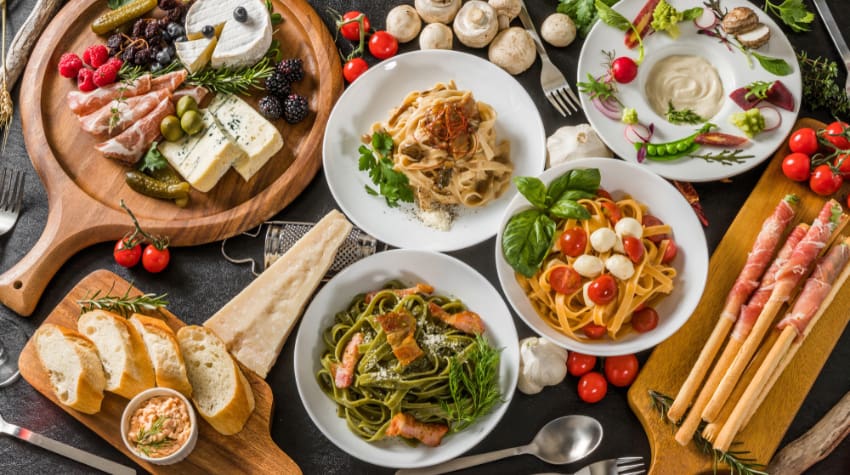 If you're in the mood for big, family-style portions and classic Italian fare, Carmine's should be your top choice. Treat yourself to a hearty serving of pasta pomodoro, shrimp scampi, or tiramisu with a guarantee that nobody will go home hungry.
Carmine's two levels offer lots of group space to choose from, including the Piccolo room (30 guests), the Rotondo room (84 guests), and the Ritrovo Room (260 guests), though the restaurant can also be rented out for large parties of 700 or more.
Charter bus tip: After your meal, you can kick back in reclining seats and stretch out with plenty of legroom on your charter bus. We'll drop you off at your hotel for your post-dinner nap and pick you up when it's time to start your night out in Vegas.
Address: 3500 S Las Vegas Blvd, Las Vegas, NV 89109 (in The Forum Shops At Caesars)
Bugsy & Meyer's
Space for: call the restaurant for groups of 14+ to secure accommodations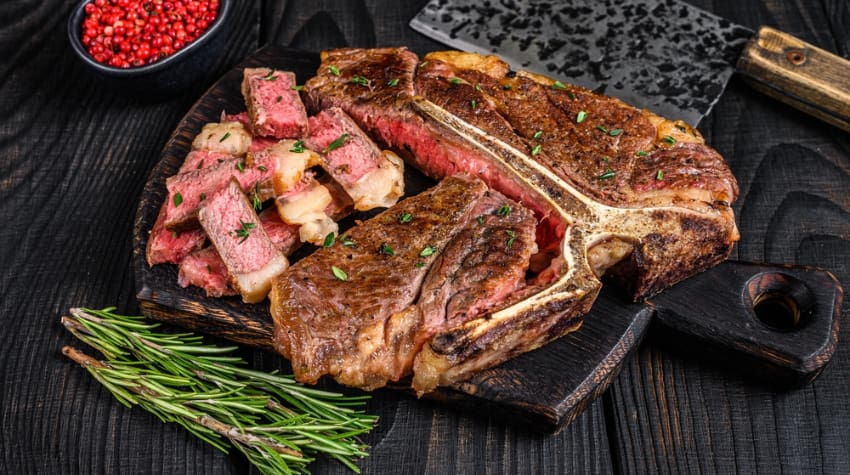 This mob-themed steakhouse boasts a giant gathering space and stunning art-deco decor style, hidden within Las Vegas's Flamingo resort & casino behind a "front" disguised as a bakery. There are several rooms with a variety of seating areas, but the private dining room can either be separated into sections or kept open to accommodate a large number of guests. After dinner, slip back into The Count Room, the restaurant's speakeasy, for a cocktail to kick off the rest of your night! Do keep in mind that the Count Room may not be able to accommodate your whole group at one table.
Charter Bus Tip: Schedule a group pickup from LAS for an easy ride from Harry Reid to The Flamingo that won't split up your group. Your bus driver will be ready and waiting to pick you up when your plane lands so you can get your trip started without missing a beat!
Address: 3555 Las Vegas Blvd S, Las Vegas, NV 89109 (in Flamingo Las Vegas Hotel & Casino)
Book Your Las Vegas Charter Bus Today
Ready to hit the road? With your itinerary in hand and all of your preferred restaurants picked out, give our 24-hour team a call at 702-780-0886 to discuss charter bus options, learn about bus pricing factors, and get all of your questions answered! We're always happy to help secure group transportation for your next Las Vegas adventure.
Do you need to rent a charter bus?