Beginner's Guide to Las Vegas
Are you planning a first-time trip to Las Vegas with friends or family? That's so exciting! But you're unsure of what to add to your itinerary? That's understandable since there's so much to do in Las Vegas. Don't sweat it, not only can Las Vegas Charter Bus Company take care of your group transportation—but the team's also compiled a few ideas for first-time visitors.
How to Travel to Vegas for the First Time
If it's your first time in Vegas, the last thing you'll want to worry about is transportation. Calling rideshares or designated drivers for a big group can put a damper on your trip. Instead, book a group transportation service with Las Vegas Charter Bus Company. You'll have a private Las Vegas minibus or a charter bus rental for the entirety of your trip! So you won't need to worry about how you'll get to and from iconic hotspots across Vegas.
Your private charter bus rental will be suited to your group's size and will be operated by a professional driver dedicated to your travel schedule. Shuttle between your hotel, top casinos, clubs, and landmarks in a modern charter bus shuttle equipped with all the features you need for a comfortable ride! Call the Las Vegas Charter Bus Company team at 702-780-0886 with your questions about booking a bus. A team member will answer any questions about charter bus rental pricing and also get you a free quote!
Walk the Las Vegas Strip.
Exploring the famous Las Vegas Strip is a must on your first visit. It's also safe to assume you may be lodging on The Strip, so exploring the 4.2-mile stretch will be a breeze. If you're tired, not interested in walking, or group members have mobility concerns, shuttling on your charter bus rental is always an option. As you travel along The Strip glittering with thousands of light, you'll see major landmarks The Bellagio, The High Roller Observation Wheel, The Luxor Pyramid, and the Paris Las Vegas Eiffel Tower.
Charter bus rental tip: Many major landmarks on The Strip will have hop-on hop-off locations for visitors in tour buses and charter buses. Be sure to discuss with your driver what parts of The Strip you'll want to stop at in advance so you can plan pick-ups and drop-offs accordingly.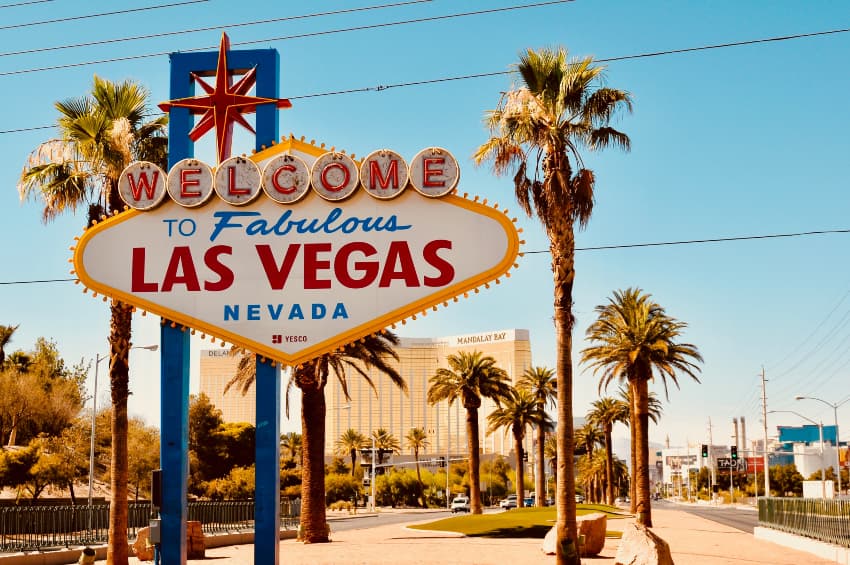 Take a photo op at the Welcome to Las Vegas Nevada Sign.
The famed "Welcome to Fabulous Las Vegas" Sign is one of the most photographed and recognizable landmarks in the city. This iconic sign is located on the southernmost end of The Strip and is a must for your first visit. Get your group together and shuttle right outside for a photo opportunity.
Charter bus rental tip: There are designated parking spaces for oversized vehicles like charter buses in the sign's parking lot.
Enjoy a show at the Bellagio Fountains and Conservatory.
Not only are the Bellagio Fountains and Conservatory one of the most popular attractions on The Strip, but they're also completely free to visit. The 8.5-acre fountain puts on a dazzling show with water reaching as much as 460 feet high. The show is every 15-30 minutes, depending on the time of day, and is exceptionally beautiful in the evening. After catching the fountain show, head inside the Bellagio Conservatory & Botanical Gardens. The conservatory features beautiful and intricately crafted seasonal art installations. Although the conservatory is gorgeous year-round, the installations are particularly breathtaking during Christmas and Lunar New Year.
Charter bus rental tip: Keep in mind that you won't be able to idle your charter bus in front of the fountains, and finding short-term parking directly at the Bellagio may not be possible, depending on how busy the resort will be.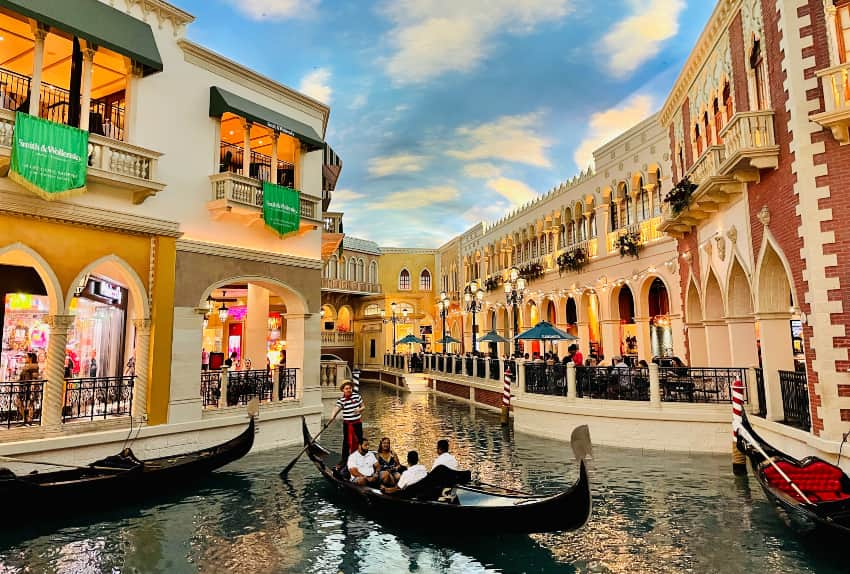 Tour the Venetian Canals.
Can't quite make it across the pond to Italy? Get a taste of Venice right in Vegas at The Venetian Resort. Gondola rides are typically thought of as a romantic attraction in Vegas but groups of friends or family will enjoy it too! You'll be serenaded by your gondola operator while seeing the beautiful manmade canals recreated to mimic one of Italy's most beautiful places. Taking a gondola tour is also perfect for groups who want to get a unique view of one of Vegas' top resorts.
Charter bus rental tip: Bus pickup and dropoff can be found on the first floor of the Congress Center in the Venetian Resort.
Catch a Cirque du Soleil Show.
As one of the entertainment capitals of the United States, nothing can quite compare to the live shows in Las Vegas. Cirque du Soleil is a staple and an absolute must for groups of first-time visitors. This famed circus company has several shows going on at any given time in Las Vegas, which means you can pick an option based on your group's interests. Catch a mesmerizing production at one of six resorts. Most shows offer discounted pricing for groups of 10 or more.
Charter bus rental tip: Oversized parking will be dependent on the casino or resort where the show is hosted. When you book group tickets, be sure to ask about minibus or charter bus rental parking.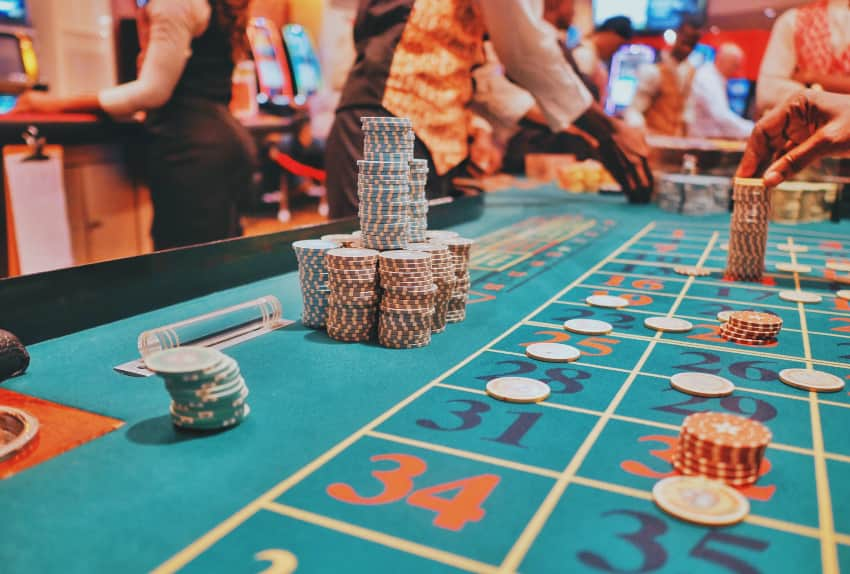 Try your luck at famed casinos on The Strip.
If hitting the casinos is something you're interested in, you'll have plenty to choose from in Vegas. If you're not sure which casinos are quintessential and must-visits for your first-time trip, consider reading this handy blog about Vegas's top casinos. Interested in exploring lesser-known casinos in Las Vegas for your first-time trip? There's a blog for that too! Have some exciting and responsible group fun at the casinos while the Las Vegas Charter Bus Company team handles your transport.
Charter bus rental tip: If you're planning to hop between casinos along The Strip, be sure to organize charter bus parking that has in-and-out privileges.
Enjoy views of the Vegas skyline.
With its neon lights and towering landmarks, the Vegas skyline can be breathtaking in the evening. Thankfully, it's pretty easy to get top-notch views of the city from multiple locations. Grab tickets to one of the observation decks at the STRAT Hotel, book a group cabin in the High Roller Observation Wheel, or head up to the Paris Las Vegas Eiffel Tower Deck. Most of these attractions offer discounted group tickets with advance reservations.
Charter bus rental tip: When you make a reservation with your observation deck of choice, be sure to ask about oversize parking options for your charter bus rental.
Travel with Las Vegas Charter Bus Company
Ready to hit the road to Vegas for your first-time trip? You'll just need to lock in your transportation there! The Las Vegas Charter Bus Company team is available around the clock at 702-780-0886 to help you organize transportation for your next trip!
Do you need to rent a charter bus?