Best Las Vegas Group Destinations for Outdoor Lovers
Las Vegas may be known for its flashy lights and nightlife, but it's also home to a gorgeous natural desert landscape, making it perfect for groups of outdoor enthusiasts. Whether you're a group of tourists looking for prime photo opportunities or you're hosting an outdoors team-building day for your company, you'll have a long list of natural spaces to explore in Las Vegas. If you're getting a big group of nature lovers together, you can simplify your day with transportation from Las Vegas Charter Bus Company.
Keep on reading to learn more about Las Vegas's best outdoor destinations and group transportation services that you can book to get there!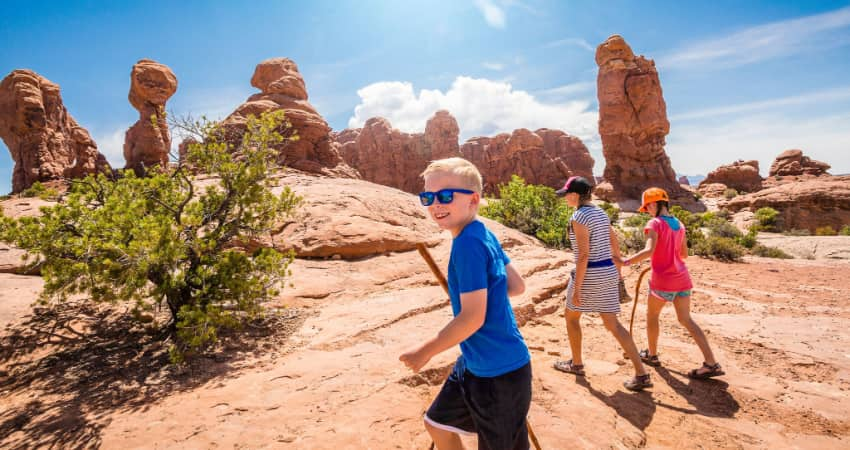 How To Travel to Las Vegas Parks
Hitting the road with a large group can be difficult to arrange, especially if you're planning a trip outdoors. You'll likely have a hard time parking multiple cars at popular parks and finding everyone spread out amongst several lots. Consider booking a private minibus or charter bus rental with Las Vegas Charter Bus Company.
The Las Vegas Charter Bus Company team is well-versed in organizing transportation for groups of all sizes traveling across the area. Booking a private bus rental will allow your group to travel and arrive together at your park of choice—no parking hassles required. You'll have a spacious bus, a professional driver, and comfortable amenities onboard to make the ride as enjoyable as possible. Kick back in plush seating, with personal climate controls and features like WiFi and TVs to stay relaxed and entertained on the road.
If booking a charter bus sounds like a prime idea for your next outdoor outing around Vegas, call the Las Vegas Charter Bus Company team at 702-780-0886. A representative will answer all of your questions about booking and you can learn more about charter bus rental pricing!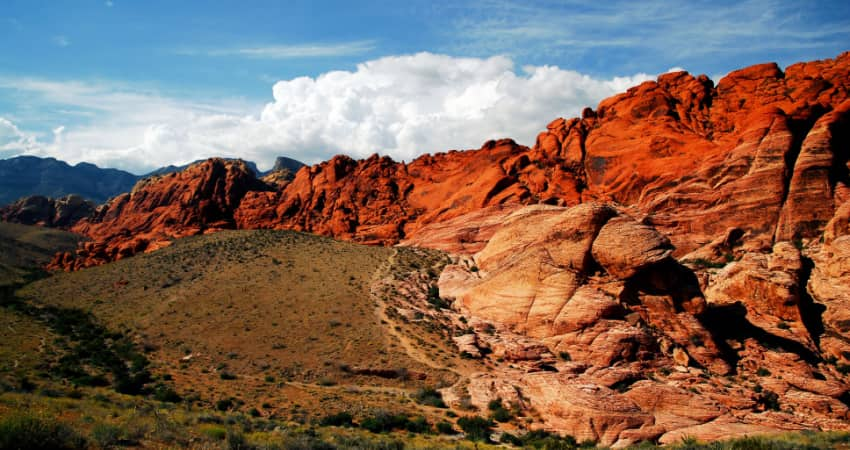 Red Rock Canyon National Conservation Area
Address:: 1000 Scenic Loop Dr, Las Vegas, NV 89161
Phone: (702) 515-5350
Red Rock Canyon is located in Nevada's Mojave Desert, about a 20-minute drive from the center of Las Vegas. Red Rocks is known for its breathtaking geological formations, namesake red sandstone rocks, and ancient Native American petroglyphs.
If your group is an active bunch, there are a variety of hiking trails and climbing areas. Break a sweat on the 2.2-mil Calico Tanks Trail, and challenge yourselves on the 4.6-mile Turtlehead Peak Trail, or organize a climb with resources from the Red Rock climbing team.
Are you interested in educational options for your school group or scout troop? Guided programs for school groups can be reserved with the Red Rock Canton Visitor Center. Nature talks about the area's native flora and fauna.
Or are you looking for easy snapshots of the landscape? Book a charter bus for your group and shuttle through the 13-mile scenic drive. You'll see the highs and lows of the canyon, as well as sweeping views of the park's breathtaking rock formations. Depending on the time of year, you'll need to book a timed entry pass to shuttle through the scenic drive.
Charter bus rental travel tip: Entrance fees for oversized vehicles like charter buses will be $15 per vehicle + $5 per person. School groups and other organized groups should call the visitor center ahead of time at (702) 515-5380.
Lake Mead National Recreation Area
Address: 10 Lakeshore Rd, Boulder City, NV 89005
Phone:  (702) 293-8990
Located on the Nevada-Arizona border, Lake Mead is a prime outdoor location for swimming, hiking, biking, and fishing. The sprawling lake has multiple overlook points and is home to the famed Hoover Dam.
The primary recreation area is one of the best locations in the state for aquatic recreation and is a beautiful natural space to cool off during hot Las Vegas summers. Alongside swimming, groups of visitors can take boat tours of the lake or rent jet skis, pontoons, and kayaks.
If you're planning to keep your feet dry, consider hiking one of many trails throughout the area. Most trails in the Lakeshore Area and North Shore area are suitable for beginners and somewhat experienced hikers. Groups of avid hikers should explore the Lake Mohave area south of Lake Mead. This area offers strenuous and challenging hikes that are recommended for experienced, well-prepared hikers.
Charter bus rental travel tip: Groups traveling in an oversized ride like charter bus rentals will need to pay entrance fees based on vehicle capacity. Full-sized charter bus rentals for 26+ passengers will be charged up to $150 for entrance.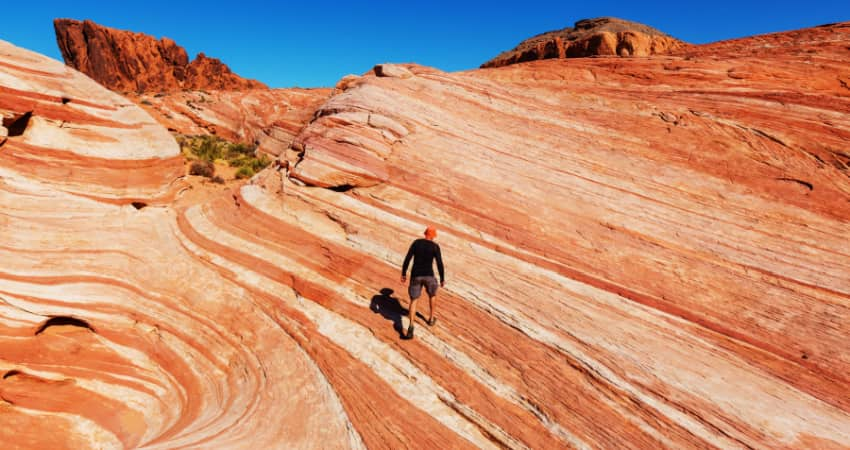 Valley of Fire State Park
Address: 29450 Valley of Fire Hwy, Overton, NV 89040
Phone: (702) 397-2088
Valley of Fire State Park is named for its 46,000 acres of towering Aztec red sandstone rock formations. The famed park is a 50-minute drive from the center of Las Vegas and is a must-visit destination for any group of outdoor enthusiasts. Visitors can snap photos of beautifully intricate color patterns in the sprawling natural rock and learn about ancient native people through petroglyphs seen throughout the park.
Groups visiting Valley of Fire can plan a  day of picnicking and hiking the gorgeous desert trails around the park. Pick an easy hike like the 1.5-mile Fire Wave Trail or bump up the difficulty by taking the Seven Wonders Loop through rugged terrain amongst colorful canyons. Groups interested in overnight camping or multi-day activities must book a reservation in advance with the park.
Charter bus rental travel tip: If you're traveling in a minibus or charter bus rental, your group will need to pay an additional entrance fee. Day use of the park ranges from $10-15 per vehicle with an additional $25 fee for large groups traveling by oversized vehicle. Educational groups or those traveling to the park for a special event should inquire about discounted entrance fees in advance.
Spring Mountain Ranch State Park
Address: 6375 NV-159, Blue Diamond, NV 89004
Phone: (702) 875-4141
Spring Mountain Ranch State Park is located in Blue Diamond, Nevada, just south of Red Rock Canyon National Conservation Area. It is smaller than other parks on this list and is a quiet, kid-friendly place for groups traveling with children. The park has historically been used as a working ranch and luxury retreat for affluent locals and seasonal residents. Today, the park has several buildings that serve as museums to inform visitors about the ranch's storied history and the area's natural landscape.
Recreational areas at Spring Mountain Ranch are shaded by trees and perfect for group picnics. Guided tours can be booked in advance and living history programming is available during certain seasons. Costumed role players will give visitors of all ages a peek into the lives of the area's early settlers throughout history.
Charter bus rental tip: As with Valley of Fire State Park, base entrance fees per vehicle, ranges between $10-15. An additional fee of $25 for large groups traveling by oversized vehicle may be collected at the entrance.
Book a Las Vegas Charter Bus for Your Next Outdoor Adventure
Reserving your Las Vegas charter bus rental for a group day outdoors is just a phone call away. Las Vegas Charter Bus Company can help you find easy and efficient transportation to shuttle your group to and from parks around the metro area. Call 702-780-0886 to reserve a minibus or charter bus for your next group hike, team-building event, or educational day outdoors in Vegas!
Do you need to rent a charter bus?