Guide to Visiting Las Vegas's Most Famous Casinos
While many things draw people to Sin City, checking out the casinos is by far the most popular pastime for visitors. But with so many places to choose from, your group of first-time Las Vegas visitors may have a hard time deciding which famous Las Vegas casino should top your list of "must-sees." Las Vegas Charter Bus Company is here to help. We've compiled this guide to the most famous casinos in Vegas to help you narrow your search and know what to expect once you get there.
Need a lift to the slots? We can help you there, too. Whether it's a full-size charter bus for a large international tour group or a minibus shuttle for your wedding party's big night out, we can provide an easy casino shuttle service so everyone arrives all together and in total comfort. Enjoying onboard amenities like free WiFi, plush reclining seats, and onboard entertainment systems is just a call away—so reserve your Las Vegas bus rental by calling 702-780-0886.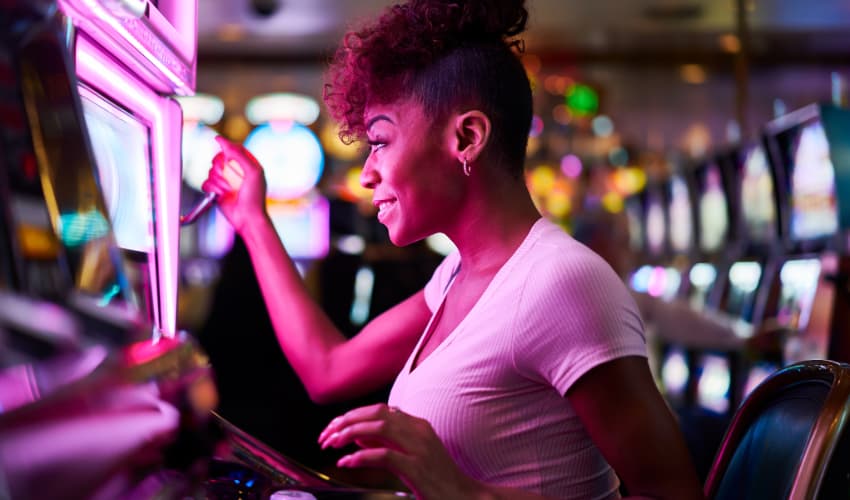 Golden Nugget Las Vegas
Address: 129 E Fremont St, Las Vegas, NV 89101
Traveling with history buffs? There are a few still-standing Vegas casinos that are older than this one, but very few are as well-loved as The Golden Nugget. This Fremont Street mainstay has been in business since 1946 and has had many big-name stakeholders over the years, including Jackie Gaughan and Steve Wynn. Eagle-eyed movie fans may even recognize its facade and interior from films such as Elvis Presley's Viva Las Vegas, the James Bond favorite Diamonds are Forever, and the National Lampoon series.
Today, this resort-casino combo offers modern amenities your group is sure to find comfortable. If your group is planning to stay at the adjoined hotel, be sure to stop by the pool—there, you can swim next to a 200,000-foot shark aquarium! After stopping by the lobby to ogle the 61-pound Hand of Faith (the world's biggest golden nugget), make your way to the casino floor for an award-winning array of slot machines for every budget range and classic table games like poker and blackjack. Or, if you have some kids in tow, swing by the arcade for some more family-friendly fun.
Charter Bus Parking: The Golden Nugget does offer complimentary parking for hotel guests, but there is a height restriction that bars most motorcoaches and minibuses. You'll need to ask the resort's concierge where your driver can park your bus before you depart.
Caesar's Palace
Address: 3570 S Las Vegas Blvd, Las Vegas, NV 89109
No Las Vegas travel guide is complete without a nod to Caesar's Palace. This famous hotel on the Strip has been one of the most high-profile Vegas casinos since its grand opening in the 1960s. And while gambling is a big draw for many guests, many more pay this Westside casino a visit for musical acts from their favorite performers—from larger-than-life residents like Celine Dion and Usher to one-night performances in the Coliseum concert arena.
That being said, if your group is here to gamble, you won't be disappointed. The Caesar's Palace casino complex is made up of two wings: the one for high-stake players and the newly constructed Olympic Casino that caters to recreational gamblers. Between the two, you'll have access to over 2,000 slots and games, including various reel-type and video-reel machines, poker and keno, and tabletop games like blackjack.
Charter Bus Parking: The closest oversize vehicle parking is located a block away, in the lot adjacent to the Paris Las Vegas hotel.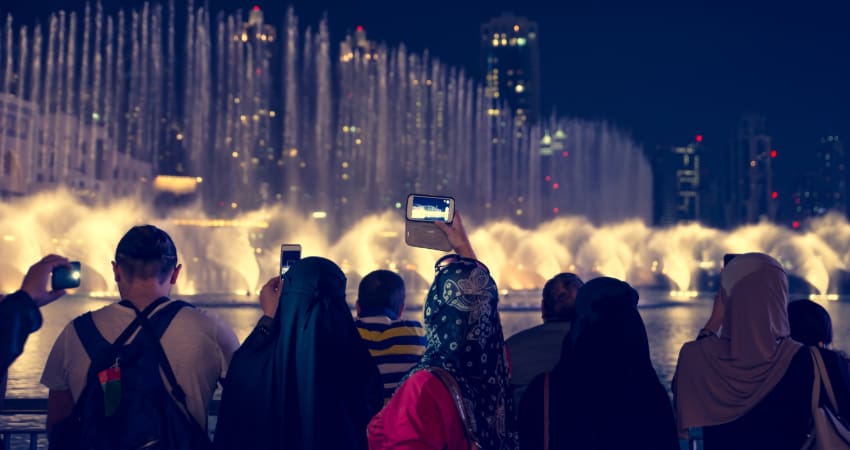 Bellagio Hotel and Casino
Address: 3600 S Las Vegas Blvd, Las Vegas, NV 89109
The Bellagio is where you'll find an upscale gambling experience that's perfect for high-rollers—whether you are one or just want to feel like one for a night. The Bellagio poker room is a well-known favorite among professional gamblers, but the casino also offers 2,300 classic and video slots and games for beginners. Major draws to the casino floor are the progressive jackpot prizes that often exceed a few million dollars and the semi-regular Bellagio Slot Tournaments.
When you're not trying your luck or putting your poker face to the test, be sure to explore the hotel grounds and take in iconic Las Vegas landmarks. Your group can watch the Bellagio Fountain's 460-foot-tall water shows multiple times a night, while the 14,000-square-foot, glass-roofed Conservatory showcases seasonal topiary and botanical displays.
Charter Bus Parking: The Bellagio offers oversized vehicle parking on a first-come, first-served basis. Call ahead to ensure there's enough room for your bus rental, or your driver may need to park in another associated MGM Resort lot.
MGM Grand Las Vegas
Address: 3799 S Las Vegas Blvd, Las Vegas, NV 89109
There's a reason this cornerstone hotel is considered grand: it houses the largest casino-entertainment complex in Vegas! Take your pick of four themed gaming areas, which combined offer 3,700 slot and video poker machines, 76 blackjack tables, and 15 craps tables. The casino is considered one of the best places on the Strip to play Texas Hold 'Em, but there's something here for everyone. Newbies can test their skills on 1-cent slot machines, while your group of VIP high-rollers is sure to love the exclusive High Limit Slots lounge.
Besides the casino appeal, this complex also offers lots of Las Vegas nightlife and entertainment options for your non-gamblers. After all, this is where famous illusionist David Copperfield hosts his residency along with many dance performers, like the Jabbawockeez and Cirque du Soleil. The 12 dining options at the MGM Grand cater to a wide variety of tastes and budgets—you'll find everything from high-energy nightclubs like Hakkasan to family-friendly eats at Rainforest Cafe.
Charter Bus Parking: The casino complex itself may be huge, but the parking situation here is not. For oversize vehicle parking, you and your driver should make arrangements at the nearby Mandalay Bay Resort (an MGM-affiliated partner with ample parking for your bus rental).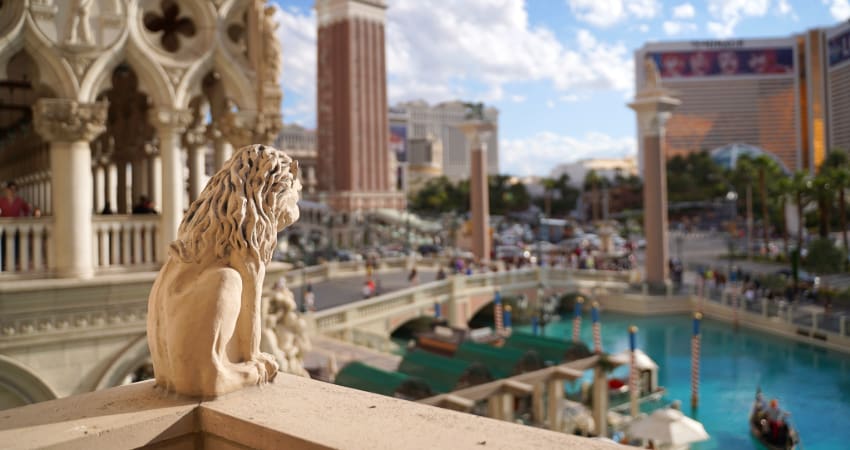 The Venetian Palazzo Resort Casino
Address: 3355 S Las Vegas Blvd, Las Vegas, NV 89109
Composed of the swanky Palazzo and the landmark Venetian (designed after its namesake), this property makes up the largest hotel-resort complex in Las Vegas and boasts more than 225,000 square feet of gambling space. Gather a large group of friends and family, and you'll have plenty of room to spread out under Renaissance-inspired ceiling frescos. Feeling especially lucky? The Venetian offers a dedicated high-limit area for your risk-takers to try their hand at roulette, blackjack, and baccarat.
After a stressful day at the tables, your group will want to unwind and enjoy the resort's amenities. Luckily, the Palazzo is home to one of the most highly acclaimed spas in the city. After a massage or a facial, set aside time to check out the Venetian's fan-favorite attraction: the Grand Canal shopping complex. Here, your group can take turns riding the gondolas through the indoor canals, window shop through the center's selection of designer brands, and grab some gelato or coffee at a quaint cafe.
Charter Bus Parking: Good news! Parking a charter bus at the Venetian and the Palazzo is free for casino guests and hotel patrons alike. Just be sure to check with your concierge before you arrive to ensure there are adequate oversized vehicle spots available for your rental.
Red Rock Casino, Resort, and Spa
Address: 11011 W Charleston Blvd, Las Vegas, NV 89135
If your group needs a break from the Las Vegas Strip, consider venturing to Summerlin for some rounds at Red Rock Casino. It's a favorite among Vegas locals, and the complex offers a rewards program for returning visitors, year-round deals and specials, and lots of games to choose from.
Getting bored of the slots, video poker, and table games? Red Rock is one of the only places in town to offer bingo! And when you want to escape the lights and noise of the casino floor altogether, your group can grab some fresh air and stunning landscape photos at the nearby Red Rock Canyon National Conservation Area.
Charter Bus Parking: Oversized vehicle parking is complimentary for groups staying at the hotel. Be sure to grab the specified parking pass at check-in and hand it to your bus driver before you hit the slots.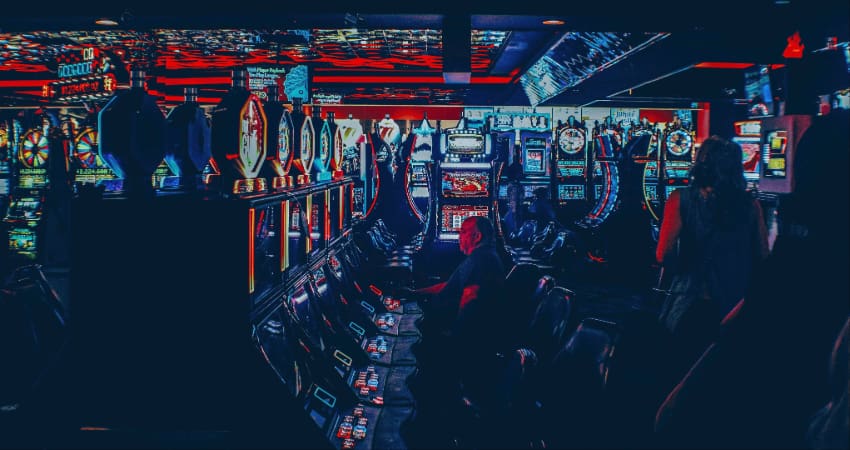 Reserve a Las Vegas Casino Shuttle Rental
Whenever you're ready to test your luck, your group won't want to worry about how they're going to get around Las Vegas. Rather than relying on multiple rideshares or renting a caravan of rental cars, leave the driving and parking to the professionals of the Las Vegas Charter Bus network. Our 24/7 reservation team is ready to help you find the perfect bus rental for your casino transportation needs when you call 702-780-0886. Reach out today to secure a fast and free quote with no obligation to book!
Do you need to rent a charter bus?