A Guide to Las Vegas's Lesser-Known Casinos and Resorts
So you've already hit up all of Vegas's most popular casinos, or maybe you're just looking for something a little bit low-key or off-the-beaten-path. Or maybe you want to experience the Las Vegas casino scene the way the locals do, abandoning all tourist traps for a more unique experience. Whatever your reason may be, Las Vegas Charter Bus Company is here to guide you through your itinerary prep! We've gathered a few of our favorite local casinos that you may not have heard of—or simply may not have paid any attention to.
If you're ready to talk about transportation for your Vegas casino hop, call our 24-hour team at 702-780-0886 for more information and a free, personalized quote!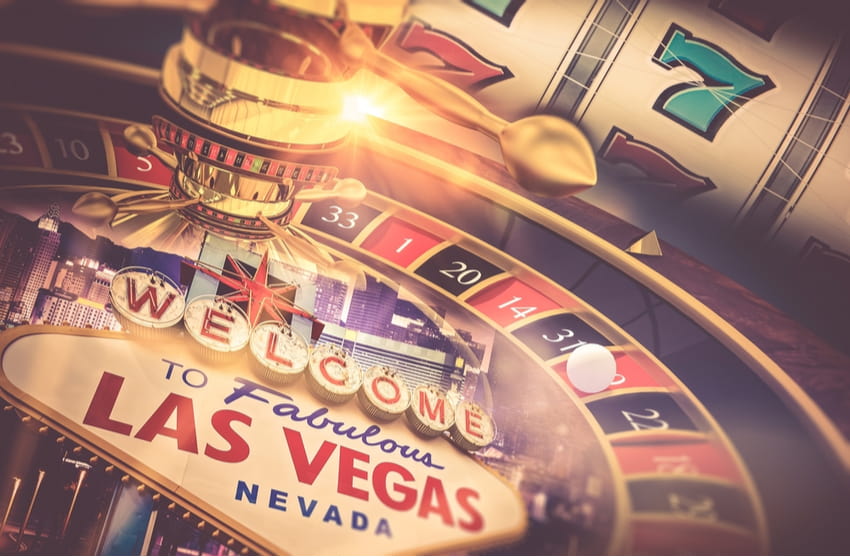 If you'd like to keep thinking about where you might want to visit, check out our list of underrated and under-appreciated Las Vegas casinos below.
Personal Las Vegas Casino Shuttles
If you're bringing a group to Las Vegas and you're not sure how you'll get around, we can help out, whether you need a quick ride into Vegas for a vacation or a shuttle bus to help your wedding party hop from one casino to the next. A private charter bus rental can ensure that everyone has a reliable ride and a designated driver throughout your trip, allowing every group member to enjoy their experience without worrying about how they'll get around. And if you're tired of arguing about what casinos to visit, we can help you set up a custom shuttle route so that everyone can hop to their favorite casinos at their own pace!
Aliante
Distance from the Strip: 22 miles, or about a 25-minute drive
Stop here if: you're staying toward the north end of the valley (or you're driving southbound to the Strip), or if you're traveling with kids
Address: 7300 N Aliante Pkwy, North Las Vegas, NV 89084
Phone: (702) 692-7777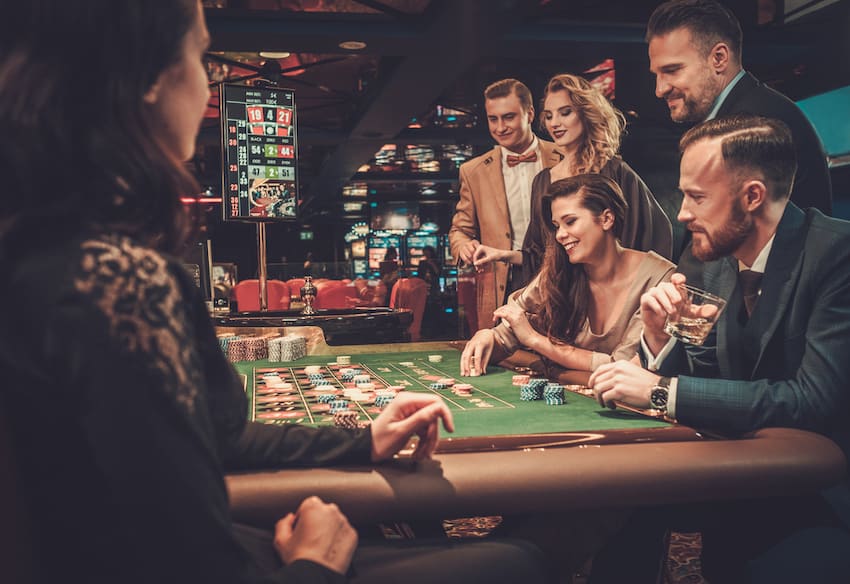 Aliante is one of the most modern casino resorts you'll find this far north of the Las Vegas Strip. And with a beautiful expansive pool area (complete with cabanas), a full-service spa, and a dedicated casino space separate from the resort, you won't have to miss out on any luxurious amenities. The property is also home to two fine dining restaurants, four casual dining spots, a Starbucks, and a food court, so you can dress up for dinner when you're feeling fancy or keep it laid-back on casual days.
Plus, Aliante is family-friendly, so kids can enjoy an arcade and food court right on the property while adults enjoy live entertainment and table games.
Charter bus parking: Aliante's parking lot should have plenty of room for your charter bus. Just let the resort know how many buses you're bringing when you book your room to ensure that enough spaces can be reserved.
The Orleans Hotel & Casino
Distance from the Strip: 3 miles, or about an 8-minute drive
Stop here if: you can't resist a good Mardi Gras party (the whole casino is Mardi Gras-themed!)
Address: 4500 W Tropicana Ave, Las Vegas, NV 89103
Phone: (702) 365-7111
Amidst the masks and the green and purple accents of this local favorite, you'll find a 70-lane bowling alley, a movie theater, an outdoor swimming pool and whirlpool, a 9,000-seat arena that regularly hosts live entertainment, and a recently-updated restaurant lineup that includes two fine dining establishments, casual dining, and plenty of options for quick bites. Some even report better odds at the Orleans slot machines than what you'll find at the nearby Strip casinos.
Charter bus parking: Like Aliante, the Orleans should have plenty of space for your charter bus in their surface lot. Just let them know you're bringing a bus when you call to book your rooms.
Red Rock Casino Resort & Spa
Distance from the Strip: 18 miles, or about a 25-minute drive
Stop here if: you'd prefer to trade flashy lights for a gorgeous desert landscape, without missing out on any entertainment!
Address: 11011 W Charleston Blvd, Las Vegas, NV 89135
Phone: (702) 797-7777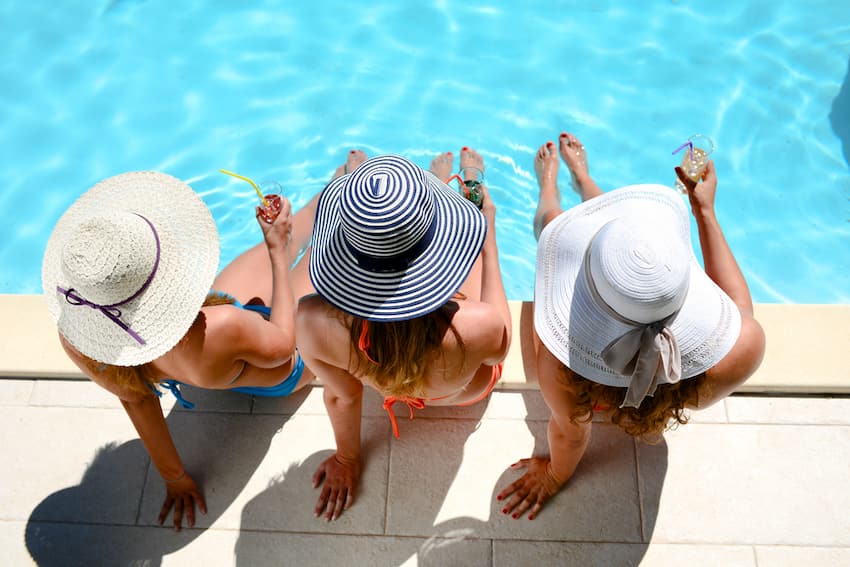 The beautiful views from the Red Rock rooms might be enough to attract some locals, but the perks definitely don't stop there—this casino has an impressive list of amenities. During their stay, guests can enjoy an extensive pool setup that includes a main pool with fountains and surrounding wading pools, private pool areas, swim-up games, cabanas, and extra space for private events—and that's just the pool deck! After toweling off, guests can head to the movie theater that includes an IMAX screen, a 60-lane bowling alley, an arcade, a spa, a kid-friendly area, and multiple dining options.
Plus, this resort sits in close proximity to hiking, kayaking, rock climbing, and biking areas, as well as downtown Summerlin and all of its dining and shopping options. If you'd like to get away from the three-acre property, your charter bus driver will be happy to help transport you to all of your nearby excursions!
Charter bus parking: Red Rock offers parking for oversized vehicles at no additional cost to hotel guests. The hotel asks that you call ahead to get your parking pass. When you call, they'll tell you where you can park your charter bus.
Primm Valley Resorts
Distance from the Strip: 39 miles, or about a 40-minute drive
Stop here if: you're traveling in from SoCal
Address: 31900 S. Las Vegas Blvd, Primm, NV 89019
Phone: (702) 386-7867
Primm Valley, Buffalo Bill's, and Whiskey Pete's are the trio that makes up the Primm Valley Resorts property: a makeshift oasis and a common pit stop for groups driving in from southern California. But for those who want to make a little more of the stop, we recommend staying for a night or two and checking out a show at the 6,500-seat arena, playing a round at the golf course, or hitting up the local outlet mall (after playing a few rounds at each casino's table games, slots, and video poker, of course).
Charter bus parking: When you book your rooms, let your hotel know how many buses you're bringing, and they'll direct you to the appropriate surface lot.
Silver Sevens Hotel & Casino
Distance from the Strip: right around the corner!
Stop here if: you want to take a peek at the Strip excitement without breaking the bank
Address: 4100 Paradise Rd, Las Vegas, NV 89169
Phone: (702) 733-7000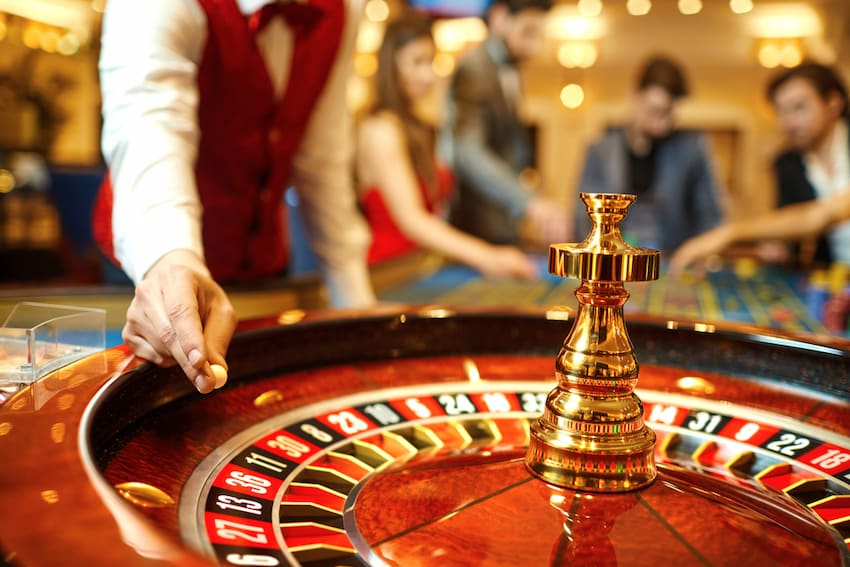 Previously called "Terrible's," Silver Sevens has recently received some much-needed TLC and now serves as a favorite alternative to the Hard Rock Cafe around the corner. Guests can enjoy slots, table games, video poker, and sports betting right on the property, or step out and do some people-watching on the Strip. When you're hungry, the hotel offers numerous dining deals at its three restaurants.
Charter bus parking: Check with Silver Sevens when you book to ensure that their surface lot will have enough space to accommodate your charter buses.
Book Your Private Las Vegas Casino Shuttle Bus
Got your itinerary ready? Once you've chosen your stops, secured your headcount, and decided when you'd like to go on your Las Vegas casino trip, call Las Vegas Charter Bus Company at 702-780-0886 to get a free, personalized quote for your trip!
Do you need to rent a charter bus?