Group Guide to Visiting Las Vegas's Best Breweries
Are you planning a massive birthday brewery hop or destination bachelor party in Las Vegas? Well, you better make sure you have a DD for the whole day and night! If you don't want to leave friends out of the beer sampling and don't want to organize rideshares after your brewery hop, consider booking a charter bus with Las Vegas Charter Bus Company. Rent a charter bus or minibus with a pro driver to safely shuttle between Las Vegas's top breweries. You can get your group together and relax in a climate-controlled charter bus while a pro serves as your DD! Book your private Las Vegas charter bus by calling 702-780-0886 at any time. When you call, a Las Vegas Charter Bus Company rep will help you hash out the bus rental cost for your entire brewery trip.
Before you organize your trip, just be sure to review local safety guidelines and each establishment's rules during the ongoing health crisis. If you have a large group, it's recommended you wait until it's safer to travel for everyone. Whenever you do plan your brewery trip though, be sure to add these popular Las Vegas spots to your itinerary.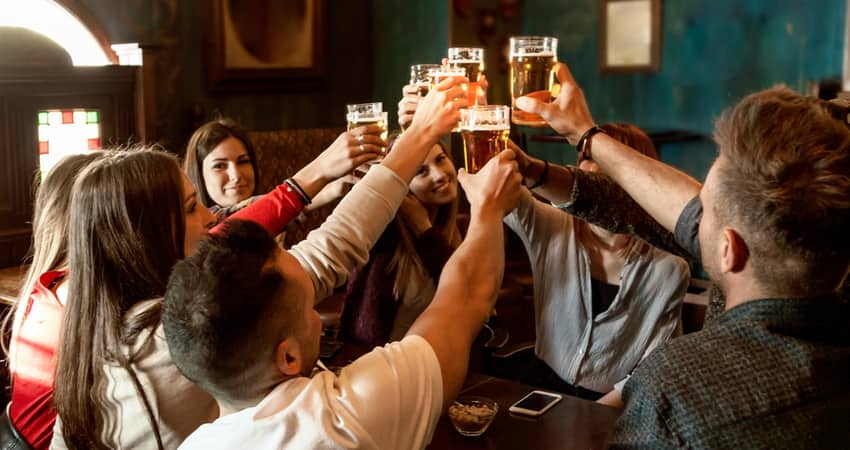 Tenaya Creek Brewery
Address: 831 W Bonanza Rd, Las Vegas, NV 89106
Phone:  (702) 362-7335
This local microbrewery offers a spacious, laidback spot to enjoy craft beer just a few blocks from Downtown Las Vegas. You'll usually find around two dozen beers on tap, including popular brews like the ultra hoppy Hop Ride IPA, smooth Bonanza Brown ale, and rich Jackalope Barleywine. If you get hungry, Tenaya Creek has local food trucks on-site every evening. Grab a flight of brews and make your way to a table inside their spacious taproom or out on the patio.
Charter bus rental parking tip: Since Tenaya Creek is located a ways from the touristy area of Vegas, parking may be easier for large groups. The brewery has a spacious private lot where parking shouldn't be a problem.
Banger Brewing
Address: 450 E Fremont St #135, Las Vegas, NV 89101
Phone: (702) 456-2739
Located just a stone's throw from the Fremont Street Experience, Banger Brewing is well known for a wide range of unique beers like a coffee-flavored Morning Joe kölsch, a jalapeno-flavored El Heffe hefeweizen, and classic hoppy options like the 200' IPA. Tables inside the taproom are relatively small but there's plenty of space for everyone to spread out. Groups that would prefer some fresh air can sit out on the patio overlooking bustling Fremont Street. The taproom is also open for private parties and events, as well as guided tours of the operation with prior reservations.
Charter bus rental parking tip: Parking around Fremont Street can be tough since it's such a heavily visited area. Most parking in the area is located in garages, but these can't usually accommodate oversize vehicles like charter buses. You'll need to organize parking at a nearby surface lot instead.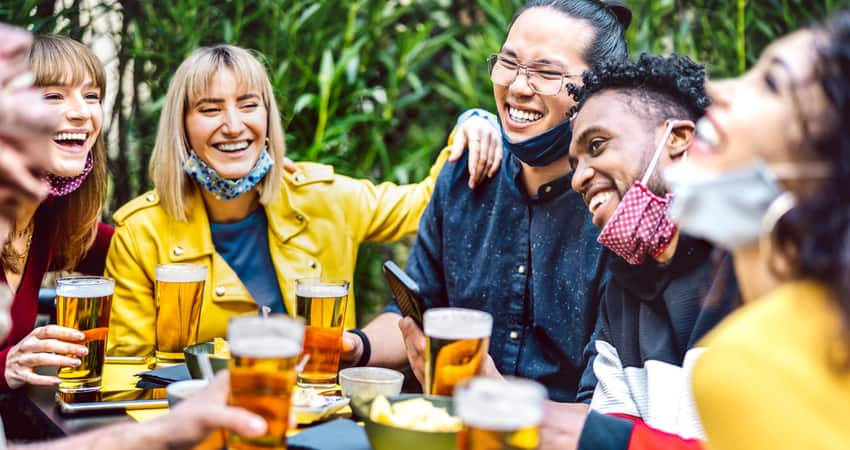 Scenic Brewing Company
Address: 8410 W Desert Inn Rd, Las Vegas, NV 89117
Phone: (702) 946-8777
Scenic Brewing Company is located in the West Valley neighborhood of Las Vegas and is a great spot to get away from massive crowds in central Vegas. Not only does Scenic brew all their beer in-house, but they also have a full-service restaurant that serves up classics like burgers, jumbo pretzels, and pasta. There are also a handful of plant-based options for vegan guests. Scenic has a wide selection of beers on tap, including fruity sours, easy-drinking ales, and bold bocks.
Charter bus rental parking tip: The brewery is located in a large shopping center with a spacious parking lot. There should be plenty of space for your bus driver to park.
Big Dog's Brewing Company
Address: 4543 N Rancho Dr, Las Vegas, NV 89130
Phone: (702) 645-1404
At first glance, Big Dog's may look like a big red farmhouse, but it's actually a brewpub. This massive 24-hour establishment is a brewery, bar, restaurant, and local hangout for Green Bay Packers fans. The brewpub's menu includes some Midwestern fare like cheese curds and pot roast sandwiches. Big Dog's has a long list of craft beer on tap, including in-house options and guest brews from around the country. A few of Big Dog's most popular beers include the chocolatey Black Lab nitro stout, Dirty Dog IPA, and award-winning Red Hydrant brown ale. Your group can choose to grab a booth in the barn's rustic interior or snag a table out on the covered patio.
Charter bus rental parking tip: Big Dog's has a large parking lot with plenty of spaces behind the building.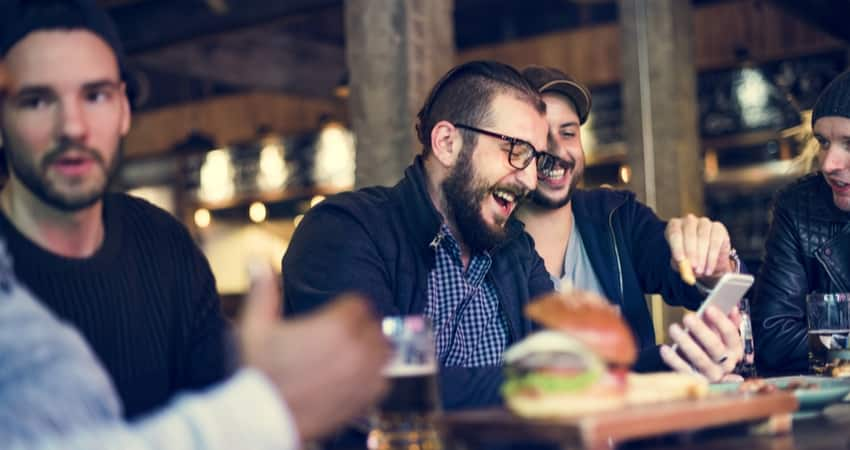 Able Baker Brewing Company
Address: 1510 S Main St, Las Vegas, NV 89104
Phone: (702) 479-6355
Able Baker Brewing Company is located in the Gateway District of Las Vegas just a couple of blocks from the famous Strip. The brewery's long community-style tables and patio make it a great spot for a company social outing or just a meet-up with friends. Able Baker's beer lineup includes a strong selection of brews like the Atomic Duck IPA, Chris Kael Impale'd brown ale, and Honey Dip stout. Along with a solid roster of beer, Able Baker has a kitchen that serves up bar bites like wings, loaded fries, burgers, and salads. Reservations for groups of 9 or more are available by email at contact@ablebakerbrewing.com.
Charter bus rental parking tip: A public lot is located right across the street from the brewery and 3-hour street parking can be found along Main Street.
Hop Nuts Brewing
Address: 1120 S Main St #150, Las Vegas, NV 89104
Phone:  (702) 816-5371
Hop Nuts is the place to be for any beer lover who's obsessed with hoppy brews. This Downtown Las Vegas brewery is well-known for ultra hoppy IPAs like Hopathon and Green Mamba. If IPAs aren't your thing, Hop Nuts also has options like the robust Harry Porter and malty Papa's Red Ale. Hop Nuts is in the Arts District of Downtown Vegas, which means the patio includes views of vibrant street art murals. Sit outside, enjoy some fresh air, take in local art, and enjoy your drinks. If you're planning a hiking trip over at Red Rock Canyon, Hop Nuts has a second taproom in nearby Tivoli Village.
Charter bus rental parking: Like most other businesses in Downtown Vegas, Hop Nuts doesn't have its own parking lot. Street parking can be found along Main Street and surrounding roads.
Brewery Hop Around Vegas in Private Shuttle
Enjoy time with your favorite people with a few cold ones in hand! You can organize a custom brewery tour with all your must-stop locations around Vegas. Leave the transportation up to Las Vegas Charter Bus Company for your entire day.  Book your private charter bus rental or minibus by calling 702-780-0886 at any time!
Do you need to rent a charter bus?