Las Vegas for History Buffs
Historical buildings may not spring to mind when you think of Las Vegas, but you can catch many glimpses of the city's rich history when you visit with a school or tour group. The Las Vegas area was home to the Southern Paiute, Northern Paiute, Washoe, and Western Shoshone tribes before Mormon settlers and miners arrived in the late 1800s. The city began to acquire the hotels, casinos, and bars it's now known for in the early 1900s, and some of them still stand today.
When you're ready to learn about Vegas's past, just give Las Vegas Charter Bus Company a call at 702-780-0886. We can provide an air-conditioned motorcoach to take you to any of these exciting historical destinations.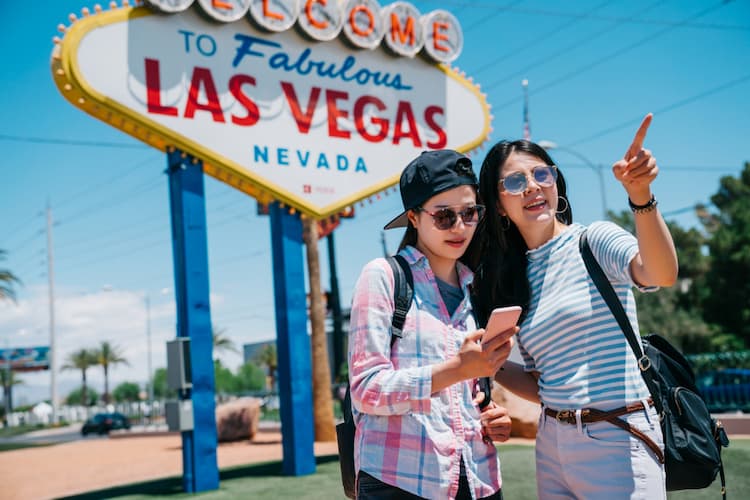 Old Las Vegas Mormon Fort State Historic Park
This fort made of beige and red adobe is the oldest still-standing structure in Las Vegas. It was built by Mormon settlers who came to the area in 1855 and was the center of their settlement. Today, it's a park in downtown Las Vegas close to The Neon Museum and the Plaza Hotel and Casino.
When you visit the park, you can see the fort's original adobe building, historic covered wagons, a reconstructed fort wall, and a replica of the creek that once kept the Mormon settlers alive. The park also contains a Visitor Center with educational exhibits, a recreation of a pioneer-era garden, restrooms, and picnic tables. Your group can tour the fort for $3.00 per person Tuesday through Saturday.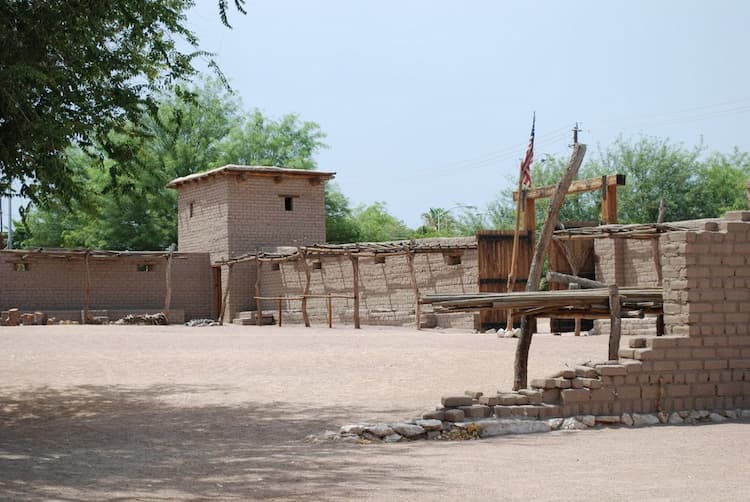 Image credit: Wikimedia Commons
Address: 500 E Washington Ave, Las Vegas, NV 89101
Charter bus parking: The Old Las Vegas Mormon Fort has a parking area, though street parking is also available if your charter bus can't fit in the spots.
Springs Preserve
Although Mormon settlers first came to the Las Vegas area in the 1850s, they didn't stay. It wasn't until 1905 that white settlers returned and set up a permanent city around several natural springs. The 180-acre area where they built their homes is now the Springs Preserve park.
When your group visits Springs Preserve, you can see historical markers, art exhibits, and botanical gardens filled with desert wildlife. You can also follow the walking trails through nature preserves for birds, lizards, rabbits, and butterflies. Entrance to the Preserve can be a little pricey, at $18.95 per adult and $10.95 per child, but your ticket includes admission to the Nevada State Museum, which has exhibits about prehistoric animals, the Native tribes who inhabit the area, and the settlers who came to Las Vegas in the early 1900s.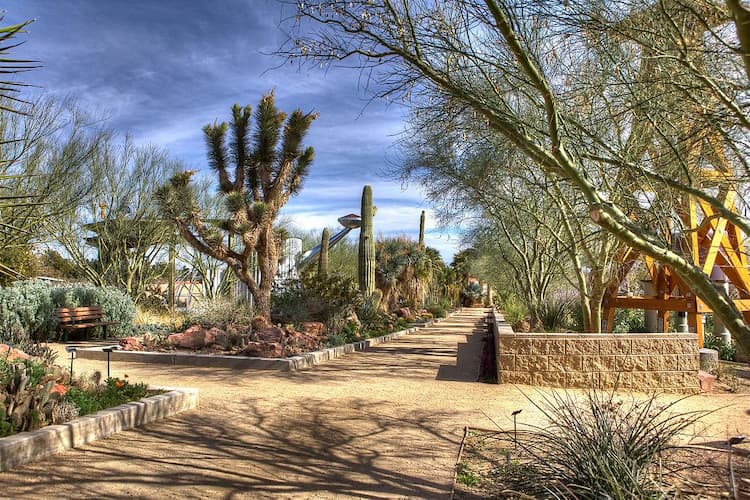 Image credit: Wikimedia Commons
Address: 333 S Valley View Blvd, Las Vegas, NV 89107
Charter bus parking: Springs Preserve has a free parking lot where you can leave your charter bus while you explore.
Golden Gate Hotel and Casino
Opened in 1906 as the Hotel Nevada, the Golden Gate Hotel and Casino is the oldest casino in Las Vegas. Although it's been renovated many times since the early 1900s, the building still contains more than 110 years of history. Explore the lobby before playing a few games in the casino, or book rooms for your group to get the full Golden Gate experience.
The Golden Gate Hotel lies along Fremont Street, an entertainment district packed with bars, restaurants, and live shows. You can easily spend an entire day or night exploring the area, and if you decide to stay elsewhere, your charter bus driver will take you safely back to your hotel at the end of the night.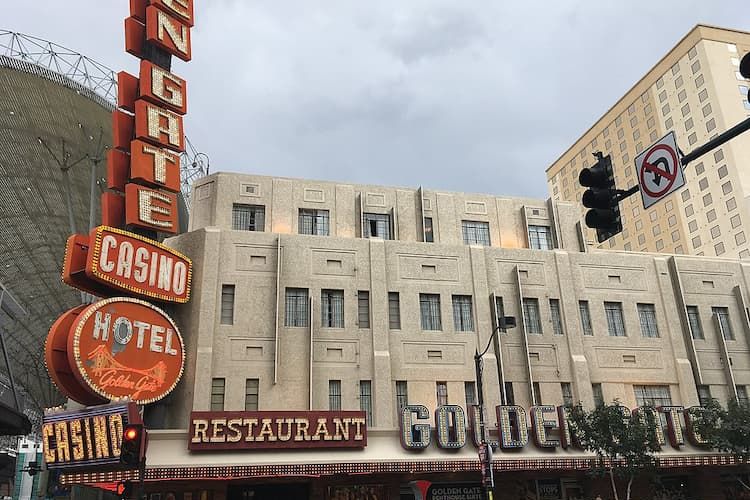 Image credit: Wikimedia Commons
Address: 1 E Fremont St, Las Vegas, NV 89101
Charter bus parking: Self parking for people visiting Golden Gate can be found at the corner of E. Carson Avenue and Main Street.
Pioneer Salon
If you're willing to venture a bit outside of the city, you can find another great piece of Nevada history here. The Pioneer Saloon still inhabits the same building it did in 1913, and old photos, newspaper clippings, and even bullet holes cover the stamped-tin walls. If you'd like to have a drink and a meal here like people did 100 years ago, your charter bus driver can serve as your DD. You can even request WiFi or TVs to keep your group entertained during the 40-minute ride back to Vegas.
Address: 310 NV-161, Goodsprings, NV 89019
Charter bus parking: The Pioneer Saloon has a parking area with abundant spaces.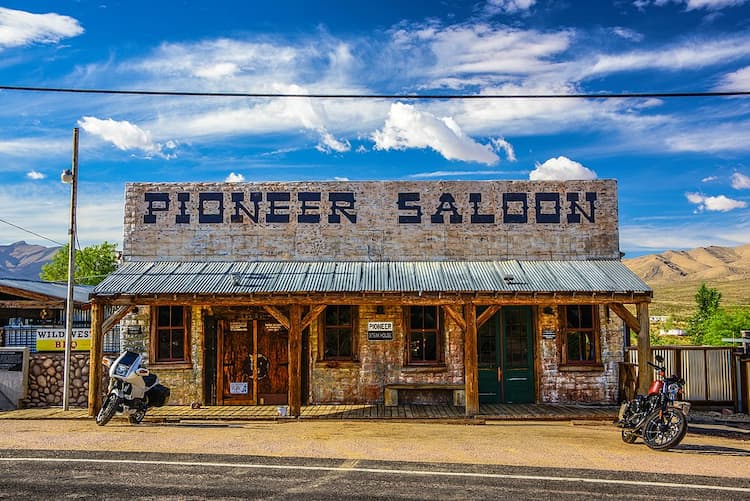 Image credit: Wikimedia Commons
Floyd Lamb State Park
Covered in ponds, lakes, and cottonwood trees, Floyd Lamb State Park has hosted a rich array of wildlife since the Pleistocene era. How do we know? Scientists have found fossils of mammoths, bison, and even giant sloths here! If you're a teacher, the park provides study guides you can give to your students to help them learn about the area and its animals. Though they won't be able to spot mammoths anymore, they could easily see ducks or even peacocks roaming the area.
Throughout history, Floyd Lamb State Park has provided a home for humans as well as animals. The Paiute people once lived here, and in the late 1800s prospectors would camp near the water. In the early 1900s settlers built a blacksmith shop and a ranch on the land, and in the 1940s Prosper Jacob Goumond turned the ranch into a retreat for divorcees (yes, really!). You can explore all the history inside this park from 8 a.m. to 8 p.m. April-September and from 9 a.m. to 5 p.m. October-March.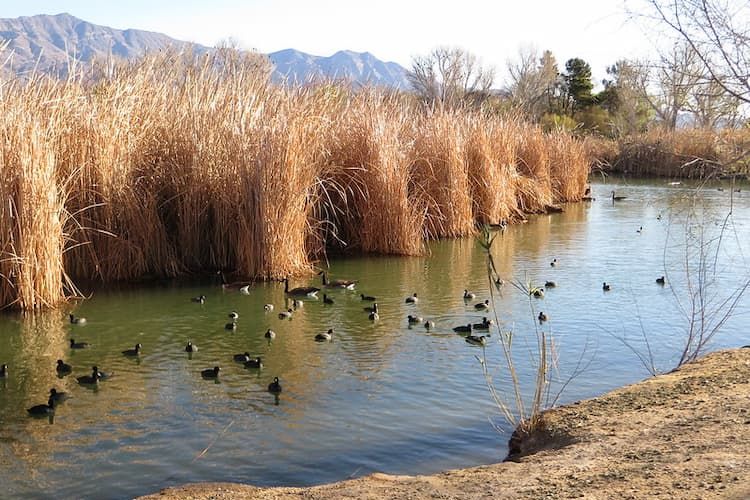 Image credit: Ken Lund on Flickr
Address: 9200 Tule Springs Rd, Las Vegas, NV 89131
Charter bus parking: Floyd Lamb has parking, but you must pay a fee per vehicle to enter the state park. Make sure you inquire about oversized vehicle fees before you arrive.
Old Las Vegas High School/Las Vegas Academy of the Arts
Although Las Vegas High School was officially established in 1905, the students didn't have a permanent building until 1930. The city decided on a beautiful Art Deco building that served all of Vegas's high schoolers until more schools were built in the 1950s. The original 1930 building now serves as the home of the Las Vegas Academy of the Arts and is on the National Register of Historic Places. Although you can't walk into the school, you can ask your driver to stop by the outside so you can take pictures of the elegant Art Deco facade.
Address: 315 S 7th St, Las Vegas, NV 89101
Charter bus parking: The school has parking, but make sure you don't stop by when it's being used by students or teachers.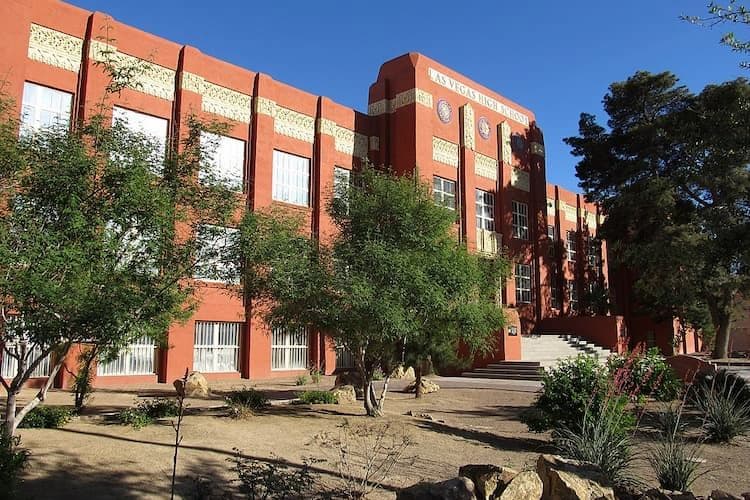 Image credit: Wikimedia Commons
Hoover Dam
Located about 45 minutes outside of Las Vegas, the Hoover Dam is a remarkable feat of Depression-era engineering. The project started in 1931, and the dam was completed ahead of schedule and under budget in 1936. It provides electricity for people in Nevada, Arizona, and California, and more than a million people visit each year to watch the Colorado River churn through the enormous structure.
The Visitors Center provides information on the history of Hoover Dam and the engineering that went into it, and you can take in the views from the observation deck or the bridge above the dam. After you're done exploring, your bus will take you back to Las Vegas while you nap or watch TV in a plush seat.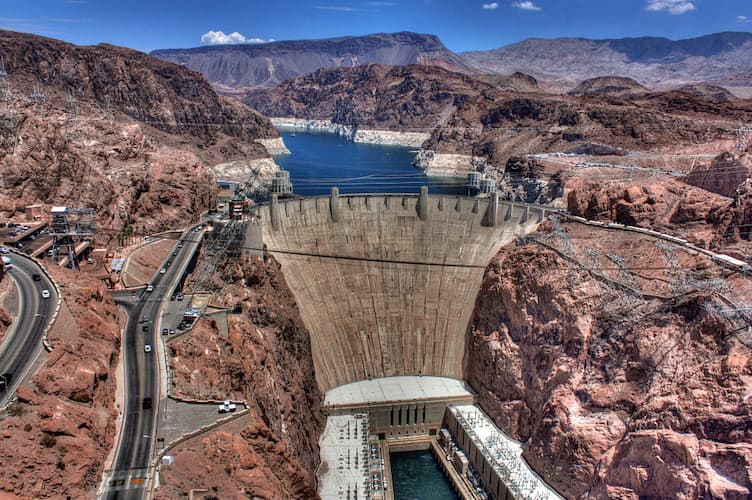 Image credit: Wikimedia Commons
Address: 81 Hoover Dam Access Rd, Boulder City, NV 89005
Charter bus parking: The Hoover Dam has paid parking near the Visitors Center, but some spots are in a garage while others are in lots. When you're on a charter bus, you'll need to make sure you can park in a lot.
Little Church of the West
Las Vegas has plenty of wedding chapels, but the most historic is the Little Church of the West, built in 1942. Take pictures with the sign and walk up to the building where Judy Garland, Mickey Rooney, Richard Gere, and Cindy Crawford once tied the knot with their partners. You don't have to get married there, of course, but if you are planning a wedding, the Little Church continues to offer quick ceremonies with a photographer and an officiant (who can be dressed as Elvis if you want). After you get married, your charter bus driver can take your entire wedding party to a casino or hotel for the reception.
Address: 4617 S Las Vegas Blvd, Las Vegas, NV 89119
Charter bus parking: The Little Church of the West has a large parking lot where you can leave your bus.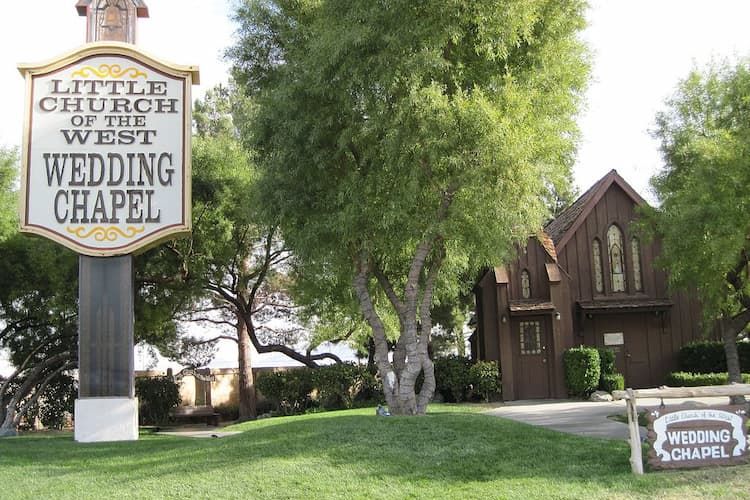 Image credit: Wikimedia Commons
The Mob Museum
In the first half of the twentieth century, Las Vegas became a major vacation destination for the rich and famous. The downside was that Vegas also became a major destination for rich and famous mobsters, like Bugsy Siegel and Meyer Lansky. Many people made their fortune here through bootlegging and gambling, especially during the 1920s.
If you're fascinated by this period of history and how law enforcement brought down many prominent mobsters, you won't want to miss The Mob Museum. Located in Vegas's former federal courthouse near Old Las Vegas High School, the Museum is packed with interactive attractions like a recreated speakeasy, a replica of a distillery, and a crime lab where you can pretend to be a forensic scientist and solve mob murders.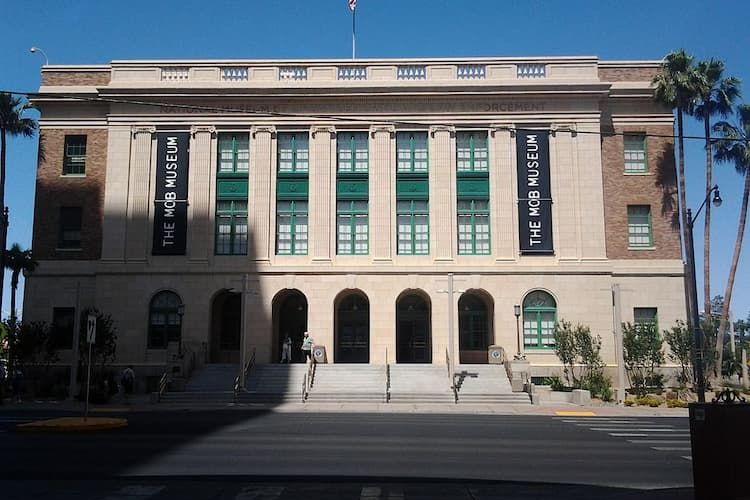 Image credit: Wikimedia Commons
Address: 300 Stewart Ave, Las Vegas, NV 89101
Charter bus parking: The Mob Museum has a lot where you can park for $7 for the first three hours, with an additional charge after that. If the lot doesn't have room for your motorcoach, your driver can park at nearby casinos like the Downtown Grand, the Main Street, and El Cortez (once owned by Bugsy Siegel).
The Neon Museum
You can learn about Vegas's history through its distinctive neon signs at this one-of-a-kind museum. Also called the "Neon Boneyard," the museum consists of a two-acre yard filled with decommissioned neon signs from the 1930s to the 2010s. You can snap pictures in front of the Moulin Rouge sign, Treasure Island skull, and Stardust sign for your Instagram, and if you visit at night, you'll see the signs lit up in an array of vivid colors.
Address: 770 Las Vegas Blvd N, Las Vegas, NV 89101
Charter bus parking: The Neon Museum has a free parking lot on McWilliams Avenue.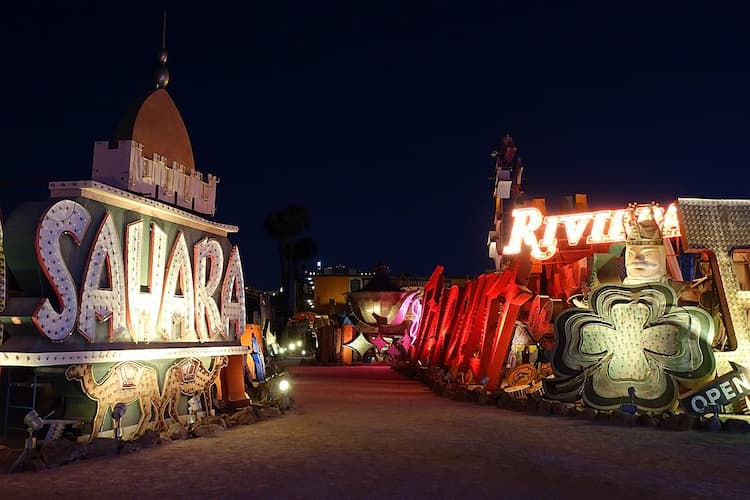 Image credit: Wikimedia Commons
Learn About Las Vegas's History During Your Visit
Whether you're teaching a history class or just have a passion for the past, you'll find plenty of fascinating buildings, parks, and museums to explore in Las Vegas. Las Vegas Charter Bus Company would love to help you get safely from Hoover Dam to The Mob Museum on a comfortable, air-conditioned motorcoach. Just give us a call at 702-780-0886 to book transportation for your next historical tour.
Do you need to rent a charter bus?