The Top LGBTQ+ Friendly Destinations in Las Vegas
While the resident queer scene is not as strong as other West Coast cities like San Fran or LA, Las Vegas is a non-stop party town, and the show-stopping campiness of it all makes Sin City a great place for LGBTQ+ travelers to live it up in a judgment-free locale.
If you're planning a Las Vegas dining event with your organization, are newlyweds-to-be seeking to get hitched, or group of friends up for a night on the town, one of the biggest hurdles to making the most of Vegas is deciding where to go and what to do. Luckily, Las Vegas Charter Bus Company put together this guide to group-friendly LGBTQ+ hotspots and the best ways your whole crew can get there.
And when you're ready to start hashing out your itinerary, our 24/7 reservation team can connect you to the perfect minibus or charter bus, so no one has to drive and everyone arrives at each stop refreshed and ready to party! Call 702-780-0886 to learn more about our Las Vegas bus rental services.
Now, on to the fun stuff: Las Vegas's top LGBTQ+ destinations, events, and activities!
Annual LGBTQ+ Events in Las Vegas
Las Vegas Pride Night Parade
Most major cities have a yearly Pride celebration these days, but few know how to party like Las Vegas. For one thing, the annual parade—full of local queer-friendly businesses, community organizations, and performance troupes—takes place on a Friday night in October, so none of your kings and queens need to worry about wilting in the desert sun. There's also a festival the following day, usually set in Sunset Park (southeast of the airport), where families and friends can walk around craft booths, listen to live music, and dance like no one's watching. Not to mention all the private parties and soirees that pop up around town, including poolside events, nighttime dance parties, and more!
The one drawback to a city-wide celebration event like Pride is that your favorite events may be on opposite sides of town. So rather than navigating parade roadway closures in a caravan of your friends' cars, we recommend renting a private shuttle throughout Pride weekend. That way, a professional can handle all the driving while you relax and chat with all your friends in one comfy cabin.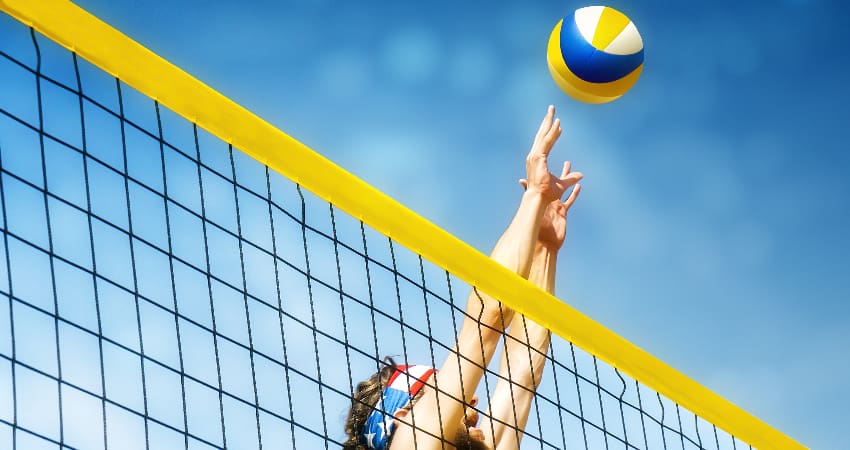 Sin City Classic
Ready to work up a sweat? Even if the dance floor isn't your group's thing, Vegas still offers a way for your crowd to get active: the Sin City Classic! It's the largest annual LGBTQ+ sports gathering in the world and brings in nearly 9,000 athletes every January to compete and bond over their favorite sports. From traditional competitive sports like swimming, tennis, and volleyball to more unconventional ones like darts, bridge, and billiards, there are over two dozen categories for your athletes to choose from and competitors of all skill levels are invited to take part. Call 702-780-0886 to set up a bus rental service that will provide your sports team plenty of room to store your equipment while on the road to Las Vegas!
Shows, Concerts, and Performances
Seeing larger-than-life artists' residency shows is an essential part of a trip to Vegas—one that many visitors argue is gayer than the LGBTQ+ bars around town. However, as of the time of this writing (June 2021), many of Sin City's biggest names and queer-favorite icons like Cher, Britney Spears, and Celine Dion won't be found at their usual Monte Carlo, Planet Hollywood, and Caesar's Palace venues.
That being said, there are still plenty of acts for your LGBT group to enjoy near the Las Vegas Strip! Here are just a couple you should check out:
Señor Frog's
Address: 3300 Las Vegas Blvd S, Las Vegas, NV 89109
Sure, your visiting crowd can probably find a franchise of this international Mexican food chain in any major city—but do the other locations have live brunchtime performances frequented by former RuPaul's Drag Race contestants? We didn't think so! Fill up from the breakfast buffet and sip bottomless cocktails while fan-favorite queens like Coco Montrese, India Ferrah, Yara Sofia, and Shannel give over-the-top performances from this Treasure Island Hotel stage.
Smith Center for the Performing Arts
Address: 361 Symphony Park Avenue, Las Vegas, NV 89106
Just because you're 2,500 miles from Broadway doesn't mean your theatre geeks will be bored—thanks to Broadway Las Vegas!  This venue most notably hosts touring Broadway productions like Cats, My Fair Lady, Hadestown, and more, along with seasonal performances by Las Vegas Philharmonic and Nevada Ballet Theatre! This Art Deco-inspired venue contains three distinct indoor performance halls that can seat anywhere from 250 to 2,050 patrons, as well as a grassy outdoor park for picnics and casual concerts.
Places to Get Hitched
While this activity obviously isn't for everyone, if you are ready to say "I do," this city is one of the best places to do it—Vegas is considered the Wedding Capital of the World, after all! While almost every chapel or potential venue will be able to accommodate your big gay wedding, some places are more popular among the LGBTQ+ community: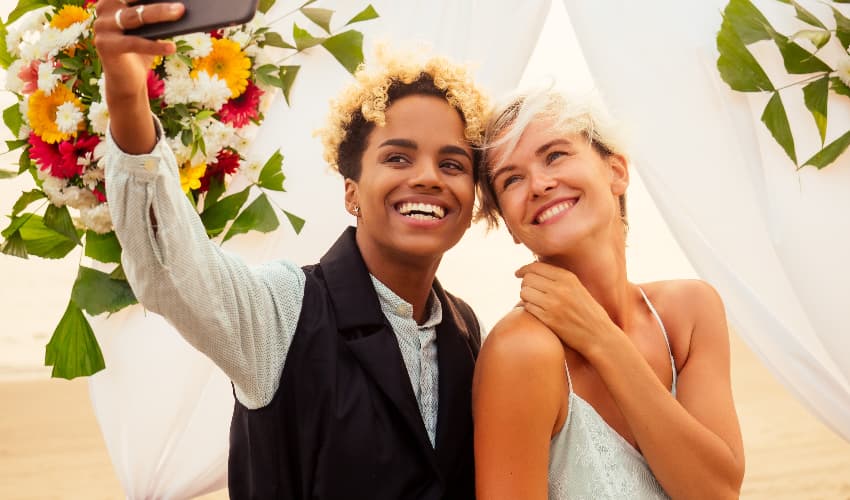 Luxor Hotel and Casino
Address: 3900 S Las Vegas Blvd, Las Vegas, NV 89119
Of all the gay-friendly hotels on the Strip, this particular hotel has been a vocal supporter of the LGBTQ+ community—in that they've donated thousands to support local events like Las Vegas Pride and host weekly queer-centric pool parties with local DJs, sexy go-go dancers, and celebrity guests.
As for wedding options, Luxor has an intimate, in-house chapel for smaller ceremonies and an outdoor venue where you can exchange vows in front of a huge sphinx statue. Or, if you'd rather get hitched in another Vegas chapel and save this resort for the reception and afterparty, you can always rent a minibus to shuttle your guests between venues. That way, everyone has a built-in DD for the night and can party to their heart's content!
Cosmopolitan Hotel and Casino
Address: 3708 Las Vegas Blvd S, Las Vegas, NV 89109
Gorgeous and glitzy, the Cosmopolitan is a fantastic wedding venue if you and your partner are looking for an ultra-lux venue for your glam wedding bash. The Chandelier Bar is prime locale for selfies and wedding photos, and it's located near some of the city's best nightlife hotspots—in case you're planning an afterparty!
On top of the oversized chandeliers, custom wedding packages, and luxurious rooms for your guests, this 5-star hotel has also earned the Best Places to Work for LGBTQ Equality award from the Human Rights Campaign for many consecutive years now. So if you want a venue that will not only treat your guests well, but also the LGBTQ+ employees there, consider the Cosmopolitan one of your top gay-friendly choices.
The Best of Las Vegas Gay Nightlife
We'd be remiss to talk about LGBTQ+ hotspots in Las Vegas without shouting out the nightlife! Beyond the popular clubs around the Strip, there are plenty of locally owned and lowkey gay bars in the Arts District, including The Garden and The Garage.
But if you're in Sin City to go all-out, we recommend bringing your crew to the rowdy dance clubs in the gay nightlife district east of the Strip—affectionately dubbed by locals as the "Fruit Loop." Round up your party people, load up your club-hopping bus rental, soak in the air conditioning, and give your feet a rest between these popular gay nightclubs in Vegas:
Piranha Ultra Lounge
Address: 4633 Paradise Rd, Las Vegas, NV 89169
This double-tiered dance club is popular among locals for its high energy and attractive crowds—perfect for singles who are ready to mingle. The main dance floor is located on the bottom level, but if you ever need to take a breather, venture to the more lowkey upstairs balcony, which gives you a perfect view of the dancers below.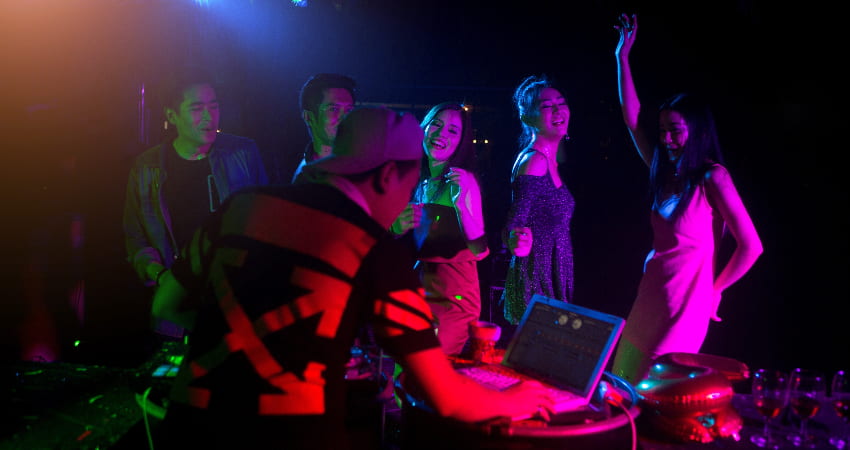 FreeZone
Address: 610 E Naples Dr, Las Vegas, NV 89119
This bar has karaoke, regular drag performances, betting games, and pool tables. Need we say more? FreeZone offers a little of everything—so whether you want to relax at the bar with a few beers or break it down on the dance floor, your group can enjoy it all in one place.
Funhog Ranch
Address: 495 E Twain Ave, Las Vegas, NV 89169
Most veteran Vegas club-hoppers recommend this dive for the friendly and welcoming staff—but the daily drink specials and relaxed atmosphere don't hurt either. Crank up some Carly Rae or Katy Perry on the jukebox, play a round of video poker, and enjoy some of the strongest/cheapest drinks in town.
Educational Destinations
Of course, Vegas isn't all parties and nightclubs. If you're traveling with a college club or just want to learn a thing or two while you're in town, the city is home to a variety of museums and educational centers. Many of the local attractions—like the Neon Museum, the Mob Museum, and the Hoover Dam—are centered around local history and are sure to pique your learners' interests. But if you're looking for places that are specifically significant to the LGBTQ+ community, we have some ideas of where to go: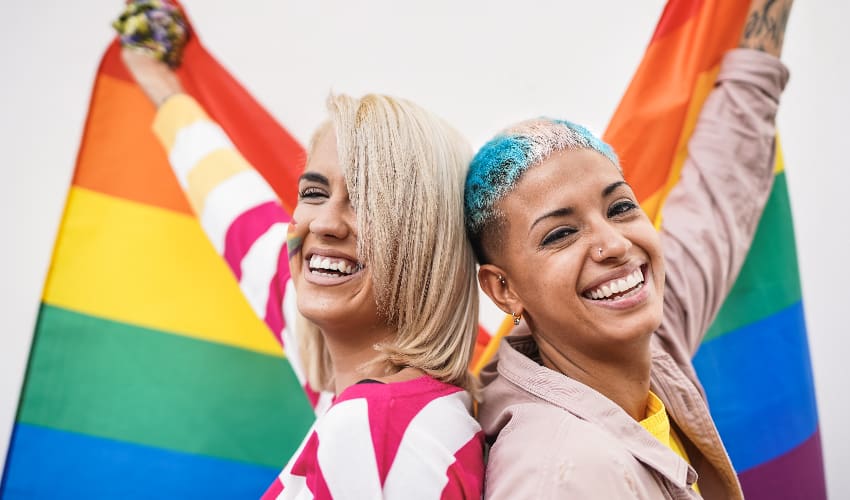 The LGBTQ+ Center of Southern Nevada
Address: 401 S Maryland Pkwy, Las Vegas, NV 89101
Serving not only the city but the entire region, this LGBTQ+ center is a great stop for locals and visitors alike. The Center provides a variety of resources, from a free clothing swap venue where trans folks can find gender-affirming clothes on the cheap to an in-house health clinic that offers free HIV testing. Whether you're looking for a weekly support group or you're just new in town and want to find a community, this center is sure to direct your group to the right resources.
Liberace Mansion
Address: 4982 Shirley St, Las Vegas, NV 89119
Although he never talked about it publicly during his lifetime, Vegas' favorite bedazzled piano player was a part of the gay community—and still lives on as a queer icon for many! Since Władziu Valentino Liberace's passing in 1987, his sprawling estate has received a Clark County Historical Designation and is now open for private charity events and tours by appointment. If you think Liberace's wardrobe and feather boas were over the top, just wait until you see his collection of sequined-covered cars and pianos, or the Sistine Chapel mural he commissioned for his master bedroom and bath.
Explore the Las Vegas LGBTQ+ Scene
Whenever you're ready to plan your LGBTQ+ outing in Vegas, the Las Vegas Charter Bus Company team will be ready to take the wheel. Our 24/7 reservation team is always ready to assist you with every step of the trip-planning process, from answering your transportation questions to offering a free and personalized bus rental quote! Call 702-780-0886 today to secure a comfortable and reliable ride through Las Vegas.
Do you need to rent a charter bus?